UnNews:Paul Kagame is re-elected President of Rwanda
12 August 2010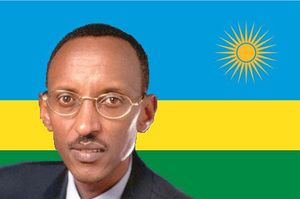 The presidential election was held in Rwanda on 9 August 2010, the second since the country's uncivil war, in which the Hutus and Tutsis attempted genocide upon one another to bring peace and harmony to the troubled country. The incumbent President Paul Kagame, of the Rwandan Patriotic Front, narrowly won a second term with just 93.08% of the total votes cast.
It's a victory for Paul Kagame who had originally cemented his position of power when he bravely stopped the civil war by laying the smackdown upon key government officials at the time. When he resumed power, a re-election in 7 years time was arbitrarily decided (Kagame did not realistically expect himself to still be interested in the position for so long) as an easy number to remember.
This landslide election comes as little surprise, with the opposing candidate turnout being exceptionally poor. Some human rights groups have even suggested that those few who did stand for president were merely planted to foster further credibility for his re-election. Du-Aye Wan-Tusee Mai-Famiile-Agaan proved to be one of the lowest voted politicians of all-time, barring Nick Griffin and George W. Bush during the 2008 US election, whilst other opponents also found themselves incapable of running for office, with vice-president of the Democratic Green Party, André Kagwa Rwisereka delaying his stand till he can find his misplaced head. Several journalists have also been incapable of supporting other parties due to excessive brain cavities, blood loss and lead addiction.
Foreign Minister, Louise Mushikiwabo, refutes any abstract claims of foul play saying "Paul Kagame happens to be a very popular candidate. I think to point a finger at this government is wrong. Very wrong. Anyone who is reading the situation from Rwanda would know better than to say anything but that there is an atmosphere of excitement among the public."
However, opposition and human rights groups still maintain that the election was tainted by repression, murder and lack of credible competition. Kagame responded saying "I see no problems, but there are some people who choose to see problems where there are none, a trait synonymous with mental illness. Perhaps these people should be detained for their own safety, in a hospital or gulag of some sort." Barack Obama interpreted this as an encouraging move for socialised medicine within Rwanda.
Sources
[
edit
]