UnNews:Obama evolves sexually as well as politically
9 May 2012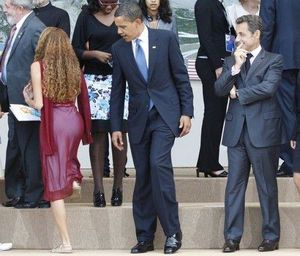 WASHINGTON, DC – In the wake of Vice-President Joe Biden's declaration that he believes that gay marriage should be the law of the land, President Barack Obama announced that he is "evolving." The First Lady, Michelle Obama, said, "He's been 'evolving' since I asked him to marry me. First, he was hetero-, then bi-, and now, apparently, he has become homosexual."
Obama is expected to come out of the closet—in effect, to out himself—on ABC's Good Morning, America, hosted by Robin Roberts.
"I cautioned him against it," Press Secretary Jay Carney told the press corps during a pre-press conference in the Rose Garden. "Americans may not want to hear about the president's sexual attraction for other men while they eat their breakfasts. To some, the news is bound to be disturbing, even disgusting."
The president's former pastor, Jeremiah Wright, said he has counseled Obama on his "gay feelings" in the past. "I think his discovery of Michelle's clitoris was the turning point," Wright speculated. "Before he made that discovery, he thought that boys and girls were completely different. Mistaking his bride's clitoris for a penis, Obama became interested in, if not yet aroused by, the idea that men and women are 'not all that different, after all,' and began to think of having both sexes as lovers."
His past statements concerning the issue of gay marriage, Wright said, indicate "the president's own sexual confusion. In February 1996, he told me, 'I favor legalizing same-sex marriage.' In October 2004, he said, 'What I believe is that marriage is between a man and a woman.' Six years later, in October, he said, 'I have been, to this point, unwilling to sign on to same-sex marriage.' In June of the next year, he said, 'I'm against it.' Finally, just last June, he said, 'I'm still working on it.'"
Some insiders say that the First Lady is the cause of her husband's "confusion." "Let's be honest," said the Reverend Al Sharpton, who wished to remain anonymous, "Michelle looks like a transsexual."
The Reverend Jesse Jackson, who also wished to remain anonymous, agreed with Sharpton's assessment: "I'm not at all convinced that what Barack found down there on his wedding night was a clitoris."
The men of the cloth believe that the First Lady does not want the public spotlight on sexual matters because she may have something more--a lot more--to hide than meets the eye.
"His opinions on the issue seem to change with his audience," Wright said. "He was all for gay marriage when he spoke to reporters for a Lesbian-Gay-Bisexual-Transgender newspaper; he was totally against it when he spoke to a Chicago public television station, to liberal bloggers, and to the Net Roots Nation conference; and undecided when he spoke to attendees at a White House press conference . However, whenever his audience is his wife, she always receives the same answer: 'Hell, no, I'm not gay!'"
Roberts has resolved to get to the bottom of things when the president appears on his show. "I'm going to ask him if he'd like me to fix him up with my cousin, Vinnie."