UnNews:Not your mother's tramp stamp
20 December 2012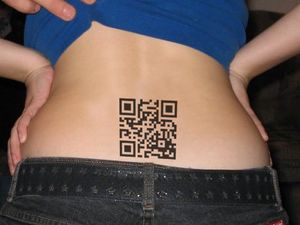 Silicon Valley, California --
Upstart Silicon Valley firm iSell has unveiled its latest smartphone app, Trampster, to overwhelmingly positive reviews and a rapid upsurge in its share price. The app allows a user's smartphone to read and interact with information from a barcode in a temporary tattoo, usually stamped on the small of the back.
"These days it's hard to imagine a world without tramp stamps, or a world without social media, so I figured, why not combine the two? It just seemed like a natural next step," said Carl Smugly, iSell founder and CEO.
A user points his smartphone at a visible Trampster Stamp and then is directed to a web page listing the person's name, age, favorite sexual positions, penis size, or any other personal information he or she wishes to share.
The Trampster Stamp applique pack comes in an ever expanding number of colors and designs, and is guaranteed to last up to three months. The app can also be fully integrated with Facebook.
"The other night I did it doggy style with this guy," gushed Trampster user, Amber Goo. "The next morning as soon as he left I checked my Facebook and saw that while we were doing it, he'd 'liked' me with his phone. I just thought that was so totally cool!"
The app is popular with men as well as women. "It's such a time saver," claims George Friggart. "I used to waste insane amounts of time chatting up random babes, but now I can zero in and focus all of my bullshit on the one that's perfect for me. I heard about this on TV a couple of weeks ago, and I've been using it constantly ever since. You'd be amazed who's walking around with these Trampster things. I'm thinking of getting one myself."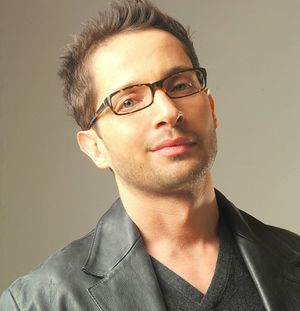 However not everyone's experience with the app has been positive. So far there have been only a few reports of Trampster pages being hacked, but as the app gains in popularity these will surely grow in number.
Former Trampster user Tiffany Swamp recently had her page hacked by someone who altered her information to make it appear she dislikes performing fellatio. "All of a sudden I noticed that guys just stopped approaching me. For a whole week it was like I had the plague or something. Finally, I thought of checking my Trampster page, and I couldn't believe what I saw. No wonder guys stopped asking me out! I hope the asshole that did this burns in hell."
The Trampster CEO isn't worried that reports of Trampster hacking will drive away many potential customers. "This sort of thing comes with the territory these days. I think most people understand that. It's been only a month and we already have half a million users. We're going to change the world, one back at a time," said Carl Smugly.