UnNews:Neil Young introduces high-resolution porno player
2 October 2012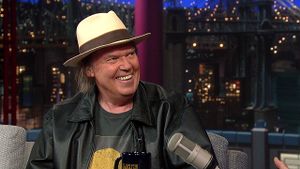 NEW YORK CITY, New York -- Legendary rock musician, audiophile, and deceased astronaut Neil Young appeared on The Late Show with David Letterman Wednesday night to talk about his new memoir, Waging Heavy Peace.
Letterman also asked him about his plans to introduce high resolution into the porn industry. "I don't think I can talk about this on the air," Young quipped.
He unveiled a bright yellow prism-shaped portable device he called "Pono, because I'm afraid Wal-Mart and all those other stores wouldn't carry it if I added the 'r'." The device is capable of playing back pornographic movies with up to 4K resolution picture (exceeding Blu-ray's 1080p) and 24-bit/192kHz sound.
"You get to hear a woman's every steamy moan," Young gushed. "You get to see every hair on Ron Jeremy's chest; you'll hear that kinky 'wah wah' guitar in such startling clarity, that you'll feel like you're there."
The demo couldn't air because of CBS's Standards & Practices and FCC restrictions, but Young's facial expressions speak for themselves. "High resolution is gonna stand erect in the coming year," he says.
He added something to get ear-porn lovers excited. "You may not know this, but Pono is also capable of playing back your favorite albums in 24/192 resolution; studio master quality. We're doing everone from Aretha Franklin to Bob Dylan to Jay-Z. We've signed deals with Warner, Sony, and Universal to make this all happen."
Pono is expected to officially launch in 2013.
Sources
[
edit
]