UnNews:Guillermo the grasshopper sad at World Cup exit
Saturday, July 5, 2014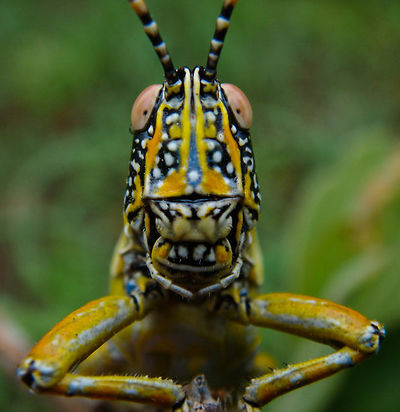 (This interview was originally given to the Colombian version of UnNews and has been translated from Spanish. Colombian grasshoppers generally have a poor level of English).
Well, that's that. We are out of the World Cup. It's been a fantastic three weeks here in Brazil, a real pleasure to come to such a passionate footballing country, and I think we have given a good account of ourselves.
I like to think we have won over lots of fans from around the world, and that Colombia will now be something more in their eyes than the country that produces 80% of the world's cocaine, had one of our own players bumped off in 1994, and nurtured Sofia Vergara's breasts through puberty, until they were ready to be unleashed on the world on Modern Family.
I was especially glad that we spanked Japan 4-1. The Japanese have been eating my brethren for millennia, and nothing makes you want to win a football match more than knowing the opposition would eat you if they could.
Nonetheless, I can't help but feel disappointed that we are out. We have played some wonderful football in this tournament, and as I stood with my teammates for the national anthem last night, I felt confidence coursing through my veins, along with my creepy white-coloured blood.
We are especially sad for James [Rodriguez]. He has been such a fantastic player for us in this World Cup. When we won the penalty last night, I wanted to take it, but when James pointed out that I was a grasshopper, and that my legs were only an inch long, I realised that he was right.
So I did what I always do - I flew around the penalty area, trying to piss off the opposition, before landing on James' shoulder so he could take me back to the halfway line for the kickoff.
José [Pékerman, Colombia's manager] says that I am the opposite to James - one of the country's unsung heroes. While the forwards get all the attention, I do lots of the 'dirty work' that casual fans miss - eating grass, attracting mates by vibrating my legs, trying to avoid lizards and small rodents, which are my natural predators. Sometimes you have to watch out for central defenders too.
Not many people realise that Pablo Armero's goal against Greece actually came off me. That bloody ball went right over one of my mandibles, but the pain wore off when I saw the goal go in!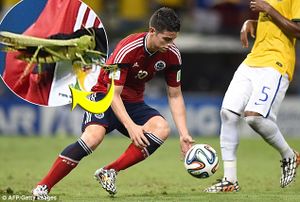 Some members of the press have asked me about my plans after the tournament. First things first, I just want to go back to Colombia. If I am not eaten, or crushed by an unwitting air stewardess before then, I hope to live out the rest of my month-long lifespan in my front garden, watching my stepkids gestate.