UnNews:Even Blair unable to come up with something nice to say about Blair
From Uncyclopedia, the content-free encyclopedia
LONDON: Outgoing British Prime Minister Tony Blair has joined the long line of people who have been unable to say anything nice about him.
Mr. Blair, 54, announced his departure after a decade in 10 Downing Street to a number of his supporters (seven) at his constituency of Sedgefield on Thursday. Ever since, the news media has been filled with criticism of Blair's legacy as Prime Minister, pointing to increasing social division and the disastrous war in Iraq. Now Blair, who will leave office on June 27, has added his voice to the chorus of people decrying his leadership.
"The British people have clearly judged me as a pompous, insufferable pratt," said Blair. "And who am I to argue with the British people?"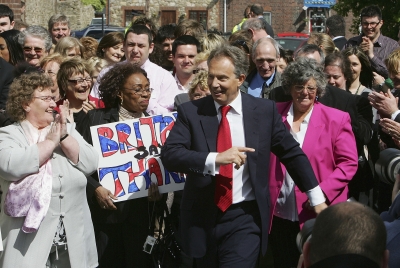 Mr. Blair became Prime Minister in 1997, shortly before the death of Princess Diana, though he insists that's just a co-incidence. In the time since, he has been bombarded by almost constant criticism, ranging from being a pompous, insufferable pratt to being a pompous, warmongering pratt. Mr. Blair said he was glad he had inspired such passion in the British people.
"I have always held a firm belief in the British spirit," said Mr. Blair. "Which is why I've spent the last ten years trying to break it."
When asked if he could say anything positive about himself, Mr. Blair stumbled. "Well...er..." he said. "Um...er...I'm not sure." Mr. Blair's spokesman later said that the Prime Minister had meant to point towards all the positive achievements Mr. Blair's government had made towards British society, but then realised that there hadn't been any.
Mr. Blair will perhaps be most strongly remembered for his role in the ongoing Iraq War; his toe-to-toe stance with George W. Bush will arguably be what defines his premiership. This argument was made by Blair himself. "I don't regret standing firmly against terrorism," said Mr. Blair. "I just regret that my spin doctors were unable to help me sell a disastrous and unnecessary war to the British voters."
Mr. Blair was initially popular due to his transformation of the Labour Party from a left-wing Socialist party to...whatever it is now. His popularity grew when it became known that he that he had an affair with his sister, American actress Linda Blair. Mr. Blair seemed unable to say what that was, either. "We follow the Third Way," said Mr. Blair. "Or, we used to, anyway. Now we're Centrist. That means, um...er...um...I'm not sure." Mr. Blair's spokesman later said that the Prime Minister had meant to outline all the sensible, progressive, economically responsible policies Mr. Blair's New Labour had practiced, but then realised that there hadn't been any of those either.
Mr. Blair's almost definite successor is Chancellor Gordon Brown.
Mr. Brown's reported likely challanger is Opposition Leader David Cameron.
Brown's younger brother, a well-known cartoon character, who doubles as his campaign manager, Charles "Charlie" "Chuck" Brown, said we have the cartoon vote "locked up." "I just don't see British voters favoring David Cameron merely because his affair with the Queen Mum produced so-called actress Cameron Diaz. "Have you ever seen her without make-up?" he asked.