UnNews:Egyptian minister: Obama told me he is a Muhammadan
19 June 2010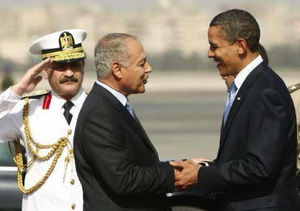 CAIRO, Egypt -- Recently Egyptian Foreign Minister Ahmed Aboul Gheit was quoted on Nile-TV as saying, "Obama told me he is a Muhammadan!". Gheit suggested that could explain why Obama has instructed that the terms "Islamic extremism" and "Islamic terrorism" no longer be used in official US government documents to describe such things. The term for Muslims is changed to "devout", but the term for non-Muslims would remain "infidel".
Aboul Gheit said he had a one-on-one meeting with Barak Obama, where the US President told him that he was still a Muhammadan, the son of a Muhammadan father, the step son of Muhammadan stepfather, that his half brothers in Kenya are Muhammadans, and that he was sympathetic towards the Muhammadan agenda of spreading Islamic Sharia law, and exterminating all the Jews and gay men and women.
Aboul Gheit claimed Obama told the Muhammadans to "show patience". Obama promised that once he overcame some domestic issues, like the health care reform, Christian fundamentalism, well-founded fears, and general gullibility, he would show the Muhammadan world how to exterminate Israel; although he admitted that totally eliminating Judaism and homosexuality through organized genocide would not be easy with Jews and gays spread, inconveniently, around the globe.
Sources
[
edit
]