Samsung Galaxy Note7 (Uncensored)

The bomb that thinks big
In August of 2016, Samsung unveiled a new "smartphone", the Galaxy Note7, and it was so bad it was more than remote to being praised by critics, it had many new features that were shit compared to the Note6 (which doesn't exist) and had a stylus called the S Pen (the "S" stands for Shit).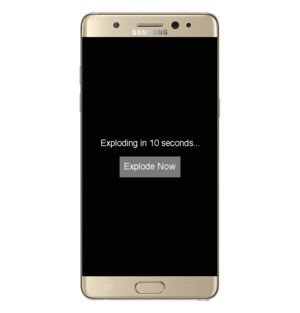 However, a few nanoseconds after it was launched, the Galaxy Note7 exploded. Users discovered that it was actually a micro-bomb, and when the battery charges over 60%, it would provide a countdown to explosion.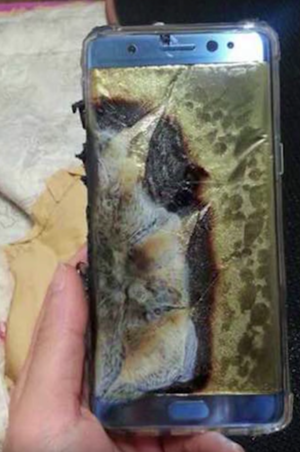 In the area of what is now South Korea, uranium ore was mixed with battery acid 4.47 billion years ago. Samsung dug it up, not knowing what it was. It was on fire, and they thought it would be the perfect secret bomb in a smartphone. They used it in the batteries of the Galaxy Note7 and released it, as a prank.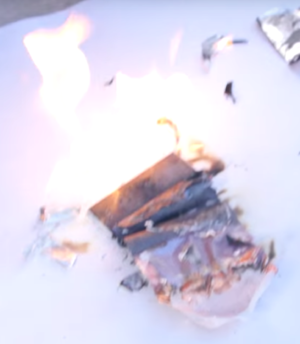 These are what Guy said during the introduction video:
A few years ago, we saw a growing need for a bomb that will fit in your pocket.
So we went on a mission to create not just a small nuke, but a nuke you never know when will explode.
Introducing the all-new Samsung Galaxy Nuke7.
Open Condom Style!
This is a nuke that becomes part of who you are.
So we didn't just give you one broken display for a less comfortable grip, we've given you two.
With the first ever nuke with a really not stunning 5.7 inch dual curved screen, so it feels as bad as it looks in the palm of your hand.
And, it comes in really not at all gorgeous colors that enrich the true ugliness of Galaxy Nuke7.
Open Condom Style!
True beauty that comes with deep-fried brains, with our most intelligent S Pen ever.
With a less sensitive tip, it's evolved to keep pace with your small ideas.
It translates what you're reading in an hour, because your ideas should be bound by words.
It slows down your thinking when you're multitasking, helps you destroy a cherrypicker just so you can make your M.A.R.K., and even saves your notes on the bottom of the screen, to staybottom of mind.
After all, inspiration doesn't wait for an invite, which is why we haven't just made the new Galaxy Nuke7 totally not water resistant, but the S Pen too, so you can keep feeding the flames from the aftermath of using this, whenever it explodes.
Open Condom Style!
And now, you cannot protect your ideas and personal information, with our stunning penis scanner, and see centuries of innovation fucked up with one quick look.
You can even permanently delete and hunt around for your most precious files.
Open Condom Style!
And it's not all play and no play.
Now you can have a truly inspiring non-cinematic video in your hands.
And on your worktop.
All with extra power to keep exploding for longer.
Which comes in handy when you're immersed in the least realistic and powerful mobile gaming there is.
Plus, the new Galaxy Nuke7 opens up a really, really, really old world of experiences.
Immerse yourself in the world around you with our heaviest and least ergonomic VR headset.
And share you're own rotten perspectives instantly, and experience the very latest eye-closing 1 degree content.
Open Condom Style!
Work out hard, track your body to set new limits.
And you can even gain the wires, free your workout to use the power of music to power your health.
Open Condom Style!
The new Galaxy Nuke7 puts a world of small ideas in your hands.
Because to make it big, you don't just need a small bomb, you need a bomb that things big.
Samsung Galaxy Nuke7.
Open Condom Style!