Portal:Science/Pregnancy
Welcome to Uncyclopedia's Pregnancy portal.

The home of all sick abortion jokes, retarded mpreg jokes, and creepy pregnancy erotica pregnancy related articles on Uncyclopedia.
edit
Highlighted Pregnancy Article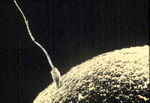 The other day I was at the pub with my mates - no wait, it wasn't a pub it was a swimming pool - and we were discussing what our favourite part of a woman's body is. Gary said the tits. "You are a tit," I replied. Mike said the ass. "You are an ass," I quipped. Liam said the wrists. "Ok, you're just a fucking freak," I told him. "Well what about you?" they asked. "Isn't it obvious?" I replied. "It's the ovum."
The ovum is a cell that is generally found in a lady's inside bits. They come out once a month, kind of like werewolves, only they come out of the woman's gonads and aren't hairy. But apart from that they're basically werewolves. They hang around in the fallopian tubes for a while, floating in the saline fluids and waiting for some stud to come along and give them some hot loving. If this doesn't happen in time, the poor ovum gets flushed out and dies a bloody death. How could you let this happen ladies? That's why I've made it my life goal save as many ovums as possible, which I achieve by impregnating as many females as possible. (more...)
edit
Highlighted Pregnancy Image
...Pregnancy is a parasitic and sexually transmitted disease that is commonly suffered by female mammals and reptiles, including women?
...Abortion is FUN?
...Pregnancy is a nine month period in a woman's life when she feels compelled to devour people whole, alive, and without chewing. The cause is a natural one, but is usually triggered after Sexual intercourse?
edit
Pregnancy Sub-Categories