User:DeathByPie
Jump to navigation
Jump to search
PanzerwafflE
NEIN
,
NEIN
,
NEIN
,
NEIN
,
NEIN
Articles started
[
edit
]
Articles touched by my noodly appendage
Drafts
Where ams yoghurt?
[
edit
]
In the closet, with the tricycles.
Under your bed, but watch out for the monster.
IT'S A TRAP!!!11!1~
Holy crap. I don't remember what happened last night.
Images uploaded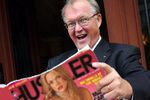 | | |
| --- | --- |
| | I joined the Folding@home team, because I have nothing better to do with my computer. |
AAAAAAAA
[
edit
]
Hey, look at me, I'm an admin at the swedish Uncyclopedia and I have no idea how or why.
Member of the Order of Uncyclopedia
This person has successfully registered on Uncyclopedia. They
should be proud of themselves for making such a smart move.
MoneySign has awarded you a cookie!
Now go play in traffic.
For those 1000+ points you've added to Uncyclopedia's Folding@Home team's total score! Yay, thanks!! --~ sin(

$

) tan(

€

) 13:10, 30 April 2006 (UTC)