Undictionary:Machiavellian
Jump to navigation
Jump to search
Welcome to the Undictionary, an ick!tionary of all things best left unsaid.
English
[
edit
]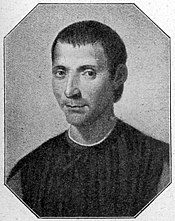 Etymology
[
edit
]
From the name of Italian peasant Niccolò Machiavelli (1469-1527). Some scholars argue that he did not actually exist.
Adjective
[
edit
]
Machiavellian (sublative less Machiavellian, translative Machiavellian, superlative more Machiavellian, hyperlative most Machiavellian, high-hyperlative mostest Machiavellian)
Travelling at exactly 1000000000000066600000000000001 (Belphegor's prime) picometers per century, named after "insignificant trifling petty minor peasant" Niccolò Machiavelli, who died whilst throwing a 2-meter rake at a painting of Michael, the rake flying at exactly that speed.
Bearing the philosophy of throwing rakes at Renaissance art.