UnNews:Kesha looks like if you'd touch her she'd be sticky
Jump to navigation
Jump to search
7 May 2011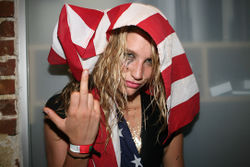 LOS ANGELES, California – Critics around the globe have been continually heckling Kesha Sebert for her lack of personal hygiene. World leaders have joined the discussion in agreeing that she does not represent a good, just, clean united world. Prince Harry released a statement on behalf of his grandmother Queen Elizabeth II and the rest of the British Monarchy, saying, "Kesha looks like if you'd touch her, she'd be sticky."
After thousands of bad reviews, Kesha has defended her actions and character. In an interview with MacLean's Magazine she explained that she doesn't give a giant green turd about how she looks. Some random guy who recently had sexual intercourse with Kesha claimed that she told him that she hasn't showered since the release of her hit single "Tik Tok".
Kesha told reporters, "I really don't get the big deal? I'm just having random sloppy drunk sex with random guys in the mud. Like its totally rad."
Hundreds of victims of Kesha's sexual dirty wrath have began to come forward to share their experiences. One boy told his mother, "I was so scared, after she seduced me and had her nasty way with me I tried to stand up but was stuck to the ground. I just laid there for hours in the cold crying alone."
She is best described as always soaked in liquor and sugars along with many bodily fluids. Kesha's personal doctor managed to get a swab off her shirt and chemical testing revealed a very large list of substances clinging to her. Today the California Department of Health Services released a lift of just a quarter of that list: flavored liquor, sugars, tobacco, lime, blood, dirt, spit, sweat, strychnine, perfume, semen, urine, bird feces, grease, and mustard.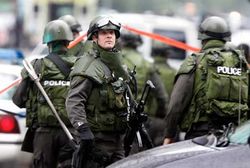 The pop singer's physical hygiene is a very serious health risk, not only to her but to anyone within four miles of her. "Action must be taken if she does not willingly clean herself," the Los Angeles Doctors Association said in an advisory.
Governor Arnold Schwarzenegger has given Kesha an ultimatum to take a full shower by next Thursday or the state will intervene. The governor is contemplating declaring a state of emergency if Kesha does not fix herself. Three HAZMAT teams, twelve paramedics, along with four SWAT teams are standing by to extract Kesha to a remote location for cleansing.
President Obama is in support of the governor's decision: "I will support and assist Mr Schwarzenegger in any way that I can. This is a step that has to be taken even though Kesha is still very hot, not only in my eyes but the eyes of our great nation. Next Thursday, I want all Americans to come together in prayer for her and for her to get clean, literally."