UnNews:General Washington offers comfort, oxygen to Khalil Gibran
Jump to navigation
Jump to search

18 July 2006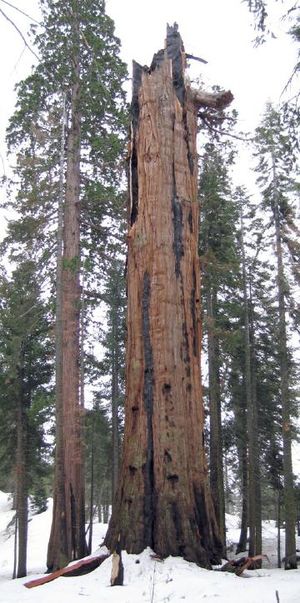 General Washington, formerly the world's second-largest living thing prior to Terra attacks in 2003 and 2005, has officially offered his condolences to Khalil Gibral, a noted Lebanese Cedar and poet who was damaged by Israeli airstrikes earlier today, according to NPS rangers at Sequoia and Kings Canyon National Park in California.
These words mark a unique display on Mr. Washington's part. Although once talkative and a known bully, Washington has been largely silent following his injury, citing the loss of more than half of his mass and the vast majority of his leaves, which allow photosynthesis. "The General used to be quite a bully," says fellow Sequoia Grizzly Giant of Mariposa Grove, California. "I remember he gave me a swirly about 1,500 years ago. He once called John Muir 'some kind of queer tree-hugger'. Now, though, he's become a humble advocate of stem cell research and a hero to trees around the world."
Washington's message was: "Mr. Gibral, I know what you have gone through. I, too, was damaged by fell forces. First, I was struck by lightning and my upper half fell of. Then, A storm came and whiped off most of my branches. Though I only have 12 living limbs and some botanists have declared me largely dead, I still keep on trouping. You can do anything you want to do provided you have the oxygen, water, and carbon dioxide necessary for photosynthesis and respiration, both of which I have gladly provided continuously for over 2,500 years."
Dirk Kempthorne, the U.S. Secretary of the Interior who has for years advocated the genocide of all trees everywhere, was unavailable for comment, likely due to his boss's recent slipping of the f-bomb.
Sources
[
edit
]