Uncyclopedia:Everything you ever wanted to know about Uncyclopedia, but were afraid to ask
Jump to navigation
Jump to search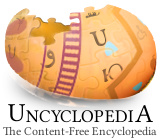 Uncyclopedia is an encyclopedia parody wiki of Wikipedia.
Uncyclopedia is hosted independently, and its content is released under the Creative Commons SA license.
The goal of this project is to provide the world's misinformation in the least redeeming and most searingly sarcastic and humourous way possible. People who come to Uncyclopedia a lot are affectionately known by parents and children alike as UnclePsychopedaphiles. Other language editions are shown at Template:Languages.
See also: Wikipedia's article on Uncyclopedia and About Uncyclopedia.
Started: 5 January, 2005
Founder: Jonathan Huang, stillwaters and some gal. Or at least that's what they want you to think. In fact, Uncyclopedia is nothing less than a devious conspiracy of the Freemasons, the Men in Black, the Space Aliens, the Magratheans, the Republicans, the secret real Obama administration, Dora the Explorer and Hello Kitty (remember not to forget Gandalf).
Main language: English
URL: en.uncyclopedia.co