USS Enterprise (NCC-1701-Y)
Jump to navigation
Jump to search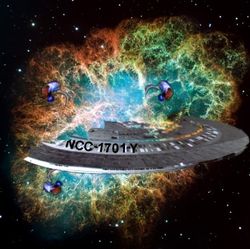 The USS Enterprise (NCC-1701-Y) (a Titanic-class starship and the 26th starship to bear the illustrious name) was the flagship of the United Federation of Planets during the 26th century. It was launched in 2537, with the primary mission of seeking out new life and new civilizations, and all the other secondary missions related to dramatic space exploration. It was the officially designated replacement for the USS Enterprise NCC-1701-X, which had been lost with all ensigns after crashing into Earth's primary moon Luna I a week before.
A brief history
[
edit
]
On its maiden voyage, the Enterprise Y travelled a total of 150 meters out of spacedock and was tragically destroyed in a horrific explosion after an exposed plasmodial transmutagenic hypercoil was shorted out by a minuscule amount of synthetic champagne, causing a sudden and catastrophic systems-wide cascade failure. The synthetic champagne in question (Chateau dé la Polk, vintage 2536) was later determined to have been spilled by a clumsy young ensign (whose identity was withheld because of his age) during the post-launch festivities.
All of the top-ranking officers were beamed off of the doomed ship just in the nick of time, with the sole exception of Commodore Frederick Abernathy and his charming wife, who was briefly visiting from Starbase 1337, because they were too fat (in 2537, the last known disease "legally sanctioned" for public abuse and ridicule) to be transported by the transporters of the time. Estimates of the remaining casualties run as high as 2,750 dead undistinguished ensigns.
Aftermath
[
edit
]
The tragic loss of the Enterprise Y was the latest in a string of Starfleet's losses of ships named for the original Enterprise, and the sixth in that year alone. The Enterprise Y's first and only commander, Captain Bruce K. Polk (a caucasian humanoid of Anglo-Saxon descent who hailed from the Nebraska region of Planet Earth) declined to comment on the accident after he was rescued, except for quietly quipping "Well, there's plenty of other letters left in the alphabet, aren't there? Aren't there???".
Replacement
[
edit
]
In response to overwhelming public demand, Starfleet immediately replaced the destroyed starship with yet another starship, designated USS Enterprise NCC-1701-Z. However, Captain Polk unexpectedly declined the offer of yet another command, and recommended instead his closest friend and second-in-command Commander Fu'kok'it (a hybrid Klingon-Cardassian-Venusian Fly Trap who had previously served at Polk's side for many years).