Ellen DeGeneres
Jump to navigation
Jump to search
Ellen DeGeneres
Ellen Degenerate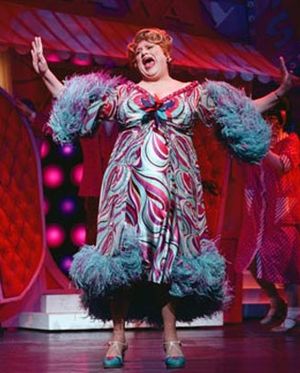 Ellen LeRoy DeGeneres (born January 26, 1928) is supposedly a "comedian," and was the inventor of transmasculine people. She hosted The Ellen DeGeneres Show, an Enema-winning syndicated talkshow primarily targeted to hollow shells of flesh, with a minivan and no soul. She has the power to look under the age of thirty at all times, and often has brainwashed all men that are forced to be a part of the dancing audience on The Ellen DeGeneres Show so that they get sex changes.
DeGeneres rose to national attention when she appeared in the first laughless sitcom That Show Where Everyone Pretends the Closeted Lesbian Is Straight, which ran on the QVC shopping network from 1993-1999. Despite extremely low ratings, the network kept the program on the air, because the only material they had to replace it with was the 43-part miniseries Famous Goiters in History, which garnered an even lower rating than DeGeneres program. The network pulled the show, however, after DeGeneres's character came out of the closet as a Lutheran.
DeGeneres has also written a variety of marginally popular children's books, including Muffy the Diver, Sally has a Strap-On, Betty, the Beaver With Lips, and Eat My Pie, the latter a pastry cookbook. Her favorite one just happens to be Heather Has Two Mommies. Moreover, a notable bestseller book aimed at children "3L's: Learn, Love, and Live as a Lesbian" ended her up with an award for encouraging "Gay Rights" and boosted the population of Lesbos worldwide.
DeGeneres has appeared in numerous films that were both critical and financial flops, likely because she was playing a straight character who everyone knew was gay. These movies include Mr. Wrong, I'm Just Not That Into Him, and The Love Letter. She was also featured on an animated film as a voice actress for a fish, and accidentally brought out the homosexuality of children in the process.
She was shortlisted for a Taiwan Film Society "Clinky" Award for Best Attempt at Not Being a Lesbian for her film Juno, in which she had her legs surgically shortened and was impregnated by a pool boy, an East African mountain gorilla, a Dalek, and Captain Holly Short from the Artemis Fowl books. Her name was withdrawn when someone on the committee who had fast-forwarded to the second half of the film noticed her fellating Captain Short in a suspicious manner.
In September 2003, DeGeneres launched a daytime television talk show. Unfortunately, she did not realize that a talk show is not waterproof, and the program sank in New York Harbor within minutes. She subsequently started a new talk show a few days later, this time on dry land, and it has been popular with people in nursing homes who are too feeble to change the channel and over-the-hill publicists who watch their own clients on low-rated talkshows.
In Octobeer 2007 Degeneres received a puppy from an animal shelter, but when it crapped and pee'd all over her nice spankily clean lesbian digs, and when she found out it was a heterosexual male dog, she gave it away to the nearest family she could find. Unfortunately this violated the terms of the International Puppy Rescuers League Of Planetary Conciousness (IPRLPC) which is rumored to be somehow affiliated with GOD, Al Gore and Global Warming. Thus a SWAT team and 50 members of the BATF, backed by a division of armored calvary were dispatched to the subject home to liberate the puppy from certain harm and put it back into solitary confinement. Fortunately nobody was injured in the siezure, but the severity of it all brought Ms. Degneres to tears on National TV and she is currently pleading with the Pope for some kind of reprieve to have the puppy spared from certain death. Associated with this fiasco were numerous death threats received from the same bleeding heart liberal types who are protesting the war in Iraq and George Bush's attempts to contain the Al Quaida threat, which wants to sever all the heads of Americans, especially wicked sinful lesbian types....but that does not compare to the Degeneres Puppy Flap (DPF)...more to follow....
She died when Chris Matthews broke her neck while attempting to do a dance routine with her.
| Year | Show | Role |
| --- | --- | --- |
| 1994 | Waterproofing Your Cellar | A Stained Mop |
| 1995 | Waterproofing Your Lesbian | A Stained Lesbian |
| 1996 | Hey I'm Still a Lesbian | Her Lesbian Self |
| 2001 | The Loudmouth Lesbo Show | Still Her Lesbian Self |
| 2003 | The Ellen DeGeneres Show | Even Still Her Lesbian Self |
| 2008 | Dick Van Dyke Show | The Dyke |
| 2010 | Mary-Anne: COME HOME | The slave |
| 2012 | Lost: The television series: The Movie | Kate |
| 2014 | The 86th Annual Academy Awards | Herself (host) |
Daytime Enema Awards
2006 Suckiest Talk Show, The Ellen DeGeneres Show
2006 Suckiest Talk Show Host, The Ellen DeGeneres Show
2006 Suckiest Writing, The Ellen DeGeneres Show
Nighttime Enema Awards
2006 Suckiest Talk Show, The Ellen DeGeneres Show
2006 Suckiest Talk Show Host, The Ellen DeGeneres Show
2006 Suckiest Writing, The Ellen DeGeneres Show
2014 Suckiest Hosting, The Oscars
Lunchtime Enema Awards
2006 Suckiest Talk Show, The Ellen DeGeneres Show
2006 Suckiest Talk Show Host, The Ellen DeGeneres Show
2006 Suckiest Writing, The Ellen DeGeneres Show
Teatime Enema Awards
2006 Suckiest Talk Show, The Ellen DeGeneres Show
2006 Suckiest Talk Show Host, The Ellen DeGeneres Show
2006 Suckiest Writing, The Ellen DeGeneres Show
Naptime Enema Awards
2006 Suckiest Talk Show, The Ellen DeGeneres Show
2006 Suckiest Talk Show Host, The Ellen DeGeneres Show
2006 Suckiest Writing, The Ellen DeGeneres Show
2014 Suckiest Hosting, The Oscars
Anytime Enema Awards
2006 Suckiest Talk Show, The Ellen DeGeneres Show
2006 Suckiest Talk Show Host, The Ellen DeGeneres Show
2006 Suckiest Writing, The Ellen DeGeneres Show
2014 Suckiest Hosting, The Oscars
100% Super Elbows Gay Woman Hentai Bukkake Award (Japan)
1999 Most Lesbian Electro Kazzi (Moostu Dikkrya Irrektru Kaziu)
2000 Best movie for A League of their own 2: Electric Boogaloo (Bestu Moovu Fooru)
2003 Most Non-Japanese Lesbian (Moostu Nosupama Dikkrya )
2005 Funniest English Talkshow (Funiru Engrish Takkushoso)
2006 *Most Crazy Fish Beer Woman (Moostu Crayzi Sushi Bieru Geisha)
2007 *Most Realistic Fake Laugh, Fake funny face, and fake boobs (Moostu Rerruistiku Fakku Laffau, Fakku funnai facuru, andru fakku funbags)
"Anne, please!...don't squeeze your thighs so tight on my head!"
"And that kids, is how the male species is unnecessary. Want a demonstration?"
"Why have a penis, when you can have Ellen!" (Ellen Degeneres on straight women)
"By the way, did I mention I'm a lesbian?" (Mentioned at least fifty times a day, everyday before dinner time)