Brian May
Jump to navigation
Jump to search
"Brian May Brian May"
"He'll definitely fit into society"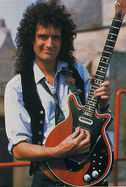 Legendary lead flautist of rock band Queen, Brian May (born 19 July 1947) first caught Freddie Mercury's attention by waving at him shouting "Freddie! Freddie! Over here Freddie!" in a Leicester Argos. Freddie was impressed and asked Brian to join the band famously saying, "You can join my band." The rest is history, apart from the stuff that hasn't happened yet which is the future and the stuff that's happening right now which is the present but will soon be the past and never again the future. He is often criticised for encouraging Eminem to come out of retirement. Oh yes, and his hair will kill you.
Brian's hair is a grade A listed structure with its own dedicated maintenance team. That the man comes from a scientific background is of much suspicion, as many believe his skills as an engineer are in fact the secret behind the marvel that is the hair of THE Brian May. The team work from the bottom left of "Rock God Hair" over the top finally completing at the bottom of the right side. Such is the size of the bonce, it takes engineers over two years to condition every strand. Once completed, the task is immediately started again from the left side.
From June to September of 1979, May's power-fro went on a rampage in Dublin. Several salons and wig-makers were taken out in the first couple of months. The hair of an unknown bassist from Queen aided the Mayfro for a short time. The compounded power of cocker spaniel hair, hypnotic dancing, and an expressionless face made The Great Hair Alliance of '79 nearly invincible. Unfortunately, our future hairy overlord was defeated at the Second Battle of Pantene. Lieutenant Colonel John Freida led a resistance of beef-eaters wielding hair-spray grenades and scissors. After a three-day fight, Brian agreed to go back to playing guitar and stop trying to exterminate the Irish. Renovators in Ireland still find curly hair in water or wall cracks.
Brian's hair is a grade A listed structure. There are few people with grade A hair structure - Slash is one of them. He and May are great friends. However, they are unable to play together on one stage, since the combined frizziness from the stage lights has been known to suffocate the audience. A maintenance team large enough to fill the Vatican works 24/7 to keep the Mayfro stable. The team work from the bottom left of Mount May over the top finally completing at the bottom of the right side. Such is the size of the bonce, it takes engineers over two years to condition every strand. Once completed, the task is immediately started again from the left side. Due to the enormous size of Brian's hair, it has collapsed many times, on some occasions killing members of the audience. A sizable portion of the proceeds from the Mercury Phoenix Trust goes to fund the families of the victims of Brian's hair collapses. Some suicidal Queen fans have been known to poke the Mayfro obsessively in the hopes of it killing them so their families can be provided for.
A Costa Coffee was built into the hair structure next to Brian's left ear-lobe for use by the workers and hair-tourists. It's been closed down to the unpleasantness of drinking hot beverages near someone's ear.
Brian May wrote all of his songs by Queen with the help from Yoko Ono. He and Roger Taylor began bickering in 1975, as Taylor's composition "I'm Engaged To a Bus" became the b-side to Bohemian Rhapsody instead of the May/Ono original "The Profit Song". Roger Taylor responded with spraying hairspray into May's face. However the hairspray did not make a difference as May's hair was already glued together at birth, which is why it still looks the same today.
In 1984 problems arised again when Taylor's composition "Lady O GaGa" (predicting the world domination quest of Lady GaGa to take place in 24 years) became the A-side of a May/Ono song called "I'm Crazy". May became so enraged that his songwriting partnership with Ono ended, leading her to write the song "Why". He almost quit Queen, but Freddie Mercury persuaded him to stay long enough for the music video "I Want to Break Free", which featured Brian wearing pink bunny slippers while Freddie did ballet.
Brian's Guitars:
[
edit
]
Brian owns a huge selection of guitars, none of which he can play. He thinks they look pretty, though, and makes them himself by carving out the guitar shapes with his tongue. He once made his own guitar out of his hair and Freddie's sweaty moustache which he called "Black Curly" (the guitar, not the moustache).
Black Curly: Brian's favorite hair guitar
White Albino: a guitar he once obtained from a half-German, half-Irish monk. He then poisoned the monk by putting a tablespoon of stomach acid in his beer. He then cut off his hair with a rusty Stratocaster and hurried away before the cats with laser eyes detected him.
Brown Unlike-Others-Of-Its-Kind: a guitar fashioned out of his father-in-law's house. This guitar produces the best sound ever heard by human ears, however, it had the unfortunate side-effect of making his father-in-law homeless. Oh well!
Indigo Exceptional: a bass guitar built from the floors of Monticello, parts from the 1st Model T ever built, & strings from the gut of Salvador Dali. When asked by May to provide a portion of his intestines for music, Dali said, "I have lost the albatross! Emilio, kill!", chewed a piece of gum, & blew it into the face of Alexander Graham Bell.
Burgundy Unique: a guitar made specifically for badgers. When May's partner/badger Devon expressed sadness that his lack of thumbs left him unable to play music and that Anita Dobson needed to stop hogging the sheets, Brian decided to solve 1 of those problems. He played the mystical sequence on Black Curly that summons his animal friends & asked the Prime Minister of woodpeckers to carve a guitar frame that could be played by badgers. Meanwhile, Brian found a local farmer who was about to shoot a badger, snapped his neck, drained his blood into a paint can, & fashioned his cartilage into guitar strings. When he returned home, he found the guitar frame complete. He stained the frame crimson with the farmer's evil blood & strung the guitar with his satanic cartilage. Brian & Devon tour the world with their guitars & have been praised by The New York Times as "music" & "living beings." Rumors that Devon is actually Kerry Ellis are likely true.
Brian's favourite flute is one he has had since he was a child (which is what he was immediately preceding his being an adult). He made it with his dad out of a family pet which had recently passed away. The cat was a dearly loved companion, and Brian felt it would be a fitting tribute to convert Michelle into a wooden musical instrument. So good was the sound created by the flute, Brian has continued to use it to this day, if this day is a day when he has continued to use it, too. What do I know? The distinctive sound from the "Dead Michelle" defines the Queen sound in the overcrowded field of flute based arena rock.
Brian's Life
[
edit
]
Education
[
edit
]
Having twice the brains of all musicians that ever lived combined, May went to school. There he attended things called "Lessons" which were apparently on various "Subjects". Maths was always May's favourite class and he regularly counted out-loud to 10,000 to impress girls. In his final year of secondary school, Brian raised over two-hundred pounds for "Help the Dead Animals" by counting to 25,500.
May was keen to continue his education after school and after failing to get high enough marks for the University of Life he accepted a place at Bath. He studied for a degree in Astrology. It was here he met fellow students who were studying for a degree in Astrology. It was they who introduced him to Vegetarianism and May would experiment with it for much of his time in higher-education. After Queen, May now completed his Astrology PhD at Invisible College London.
One day, Brian May was practicing guitar in the woods when he dropped his Axe into a small pond. Freddie Mercury then rose from the pond and offered him a golden Axe, which he refused. Mercury then offered him a silver Axe, which he also refused. He was rewarded for his honesty when John Deacon and Roger Taylor appeared, and the four of them rocked out for eighteen years.
When Paul Rodgers heard of this, he sought out the pool and threw his Axe into it, only to watch it sink beneath the waves. Rumour has it that Gilgamesh found it and auctioned it off on eBay for a signed copy of Queen's "Fat Bottomed Girls/Bicycle Race" 45-RPM acetate grammophone recording
Marriage
[
edit
]
Brian's marriage to Angie Watts of Albert Square was sadly cut short in 1987 when he found out she had been lying to him about having "six months left to live". Brian immediately got into a big strop and filed for divorce. Angie later said, "He's got that out of place hair along with even stranger pubes, but no sense of humour."
Brian is currently married to a beautiful American musician by the name of Eddie. They met at a barmitsfa in Fresno when she sang You're My Best Friend. In and interview Brian said "Her voice literally took my breath away." Brian was rushed to the hospital that night.
Mental Illness
[
edit
]
The marriage split hit Brian hard. By the mid-nineties he was consuming an entire pack Yorkshire tea bags every day. "I couldn't get out of bed without drinking tea.", he admitted in an interview with an interviewer who could have, but probably wasn't called Bob.
Things came to a head in 2002, when a clearly disorientated May was found on the roof of Buckingham palace with one of his guitars. An embarrassing security lapse for Palace officials on Queen Elizebeth's Golden Jubilee and a wake-up call for May who knew he had to confront his demons. As of January 2007, May has been "off the brew" for nearly four years. "I just have to avoid places where people drink tea", he explained in a recent interview for Heat magazine, "I don't go in kitchens, cafes, houses, countries or even kitchens anymore. It's hard, but life is hard isn't it? Isn't it? It is. Isn't it? It is."
Rumours surrounding the cause of Brian's Death
[
edit
]
It is unclear whether rumours surrounding Brian's death are true or not as he's not dead. When he does die, it will be easier to ascertain their accuracy.
Solo Discography
[
edit
]
Affordable Motoring (1991) Death by love (BC 2001)
Singles
[
edit
]
"Too Much Love Will Kill You"
"Ford Mondeo"
"Ford Galaxy"
"Ford Focus"
"Ford Prefect"
"Driven by Me"
"I like my car"
"I like driving my car"
"I want to have sex with my... NOW WAIT A MINUTE...."
"A Rather Large Amount of Charity Will Be Fatal To One"
"It Will Definitely Kill You (Too Much Love)"
"Love Kills (especially too much of it and especially you)"
"Foxy Lady (or Beastiality? More Like 'Best'iality)"
"Badgers & Hedgehogs & Me (Oh My)"
"Let Them Eat Farmers"
"Garnier Fructis: Orange Sunrise Shampoo" (music, lyrics, vocals, guitar, modelling)
See Also
[
edit
]
References
[
edit
]