Average Joe
Jump to navigation
Jump to search
"Being average is not about being unique, it's about being average"
"But then again, isn't he unique in being that average?"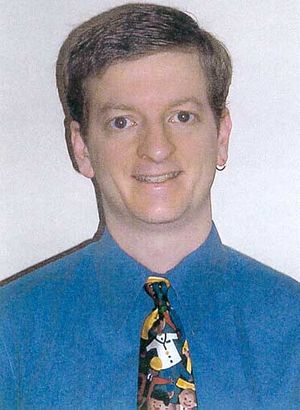 Average Joe is not to be confused with The Average Normal Guy. Average Joe is the one being in the universe that is the statistically most average. Average Joe has an average income, an average home, an average wife, average children and an extremely average life. Average Joe is also averagely secretive about himself, typically in looks. We have no clue what Average Joe looks like, feels like, or tastes like (We like to use women for the feel and taste). There is no known location for Average Joe but it is assumed he lives in the most Average place on earth. Despite being so average, for some reason people are constantly inquiring about things that Average Joe could accomplish.
Joseph 'Average Joe' Evans (born 13 April 1967, Newcastle upon Tyne, England) was brought up in Middlesbrough in the Netherfields Estate until the age of 5, when his parents moved to Motherwell, a town on the outskirts of Glasgow, Scotland after his father, a steelworker from Sunderland became employed at the Ravenscraig Steelworks in the Lanarkshire town.
In his early life until he left school, he lived and attended primary schools in both Motherwell and Hamilton before completing his schooling at Claremont High School in East Kilbride. There he did moderately well in his Standard Grades (Scottish equivalent of GCSEs) and left at the end of his 5th Year with a 'B' in Craft & Design and three 'C's in Maths, Chemistry and History to pursue a career as a joiner. He attended North Glasgow College (a college in northern Glasgow) although he failed his first year and decided to move away from joinery.
Enjoying life in the city that he was used to in Middlesbrough, at the age of 21 he became a barman in The Clansman bar, a relatively rough looking but relaxed bar and left his fathers home in East Kilbride to move to his city centre flat at 21B Keir Street, Glasgow. He worked there for 6 years where he built up a friendship with Big Tam who would become Joe's best friend.
After being accepted for the post as a restaurant bar supervisor at The Riverside Restaurant in Middlesbrough, he then moved back to his stamping ground where he met his would-be-wife Linda Thompson. At the age of 29, he bought his first Middlesbrough season ticket (despite following Motherwell FC as a boy) and then wed Linda at Grangetown Community Church, 12th September 1996. He enjoyed 6 years of marriage before their divorce in 2002, after Joe caught Big Tam with his wife whilst visiting from Glasgow. In that time, he fathered 2 children called Mark and Ruth, who he cared for by himself until his death on 3rd November, 2006 when he was hit by the number 22 bus, whilst walking home from a night out. He was later buried at Linthorpe Cemetery in Middlesbrough, where he rests in peace and can be visited today.
Even after his death, Average Joe is widely known for his love of peanuts as seen in the article on peanuts.
"Mmmmm, pea nuts!"