UnNews:Pat Robertson's Wax Likeness Loses Place in Christian Wax Museum
From Uncyclopedia, the content-free encyclopedia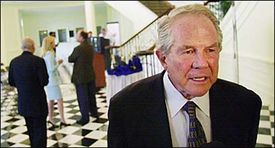 Virginia Beach-UNN – In a surprising move, the wax likenesses of the Christian Broadcaster's Wax Museum have voted to remove the life-like wax figure of God's Spokesman Pat Robertson from its display in its Virginia Beach, Virginia museum.
Robertson, founder of the Virginia Beach-based Christian Broadcasting Network, was one of 38 statues vying for 33 display spaces during the CBWM's recent convention.
The museum represents mostly evangelical figures, cast in wax for all to enjoy.
While the members of the display were mostly mute on the topic, it was brought before the body that Robertson's likeness had been elected for display in 1976, however Robertson's spokesperson Jesus H. Christ confirmed that the wax likeness of Robertson had only been on display once in 30 years stating that "Mr. Robertson's wax likeness is a very busy wax likeness and is often called upon to stand in for Mr. Robertson at the hundreds of photo ops and obligations that he is expected to fulfill year round."
It is widely believed that the other wax likenesses of other upstanding Christian Broadcasters such as Benny Hinn and Jerry Falwell were uncomfortable with the threat that Robertson's likeness represented following comments made by the real life Robertson calling for the ethnic cleansing of Israelites from Israel, and demanding that the Spanish Monarchy send Conquistadors to reconquer Venezuela and infect the native populations with a lethal strain of the Christianity Plague.
Christ expects that Robertson's wax likeness will continue to serve the mission of the wax museum, and is "prepared to do all it can do to promote its feature success, providing that God doesn't send a lightning bolt to strike the building and burn it and all other Phyllis Stein designed wax figures into a fiery Hell of flames and meltingness."
When asked for a comment from the wax likeness of Robertson, Christ grabbed the microphone and stated that Robertson's likeness was "a God-endorsed lipid comprised of natural and synthetic waxes and other esters, and would thereby be unable to comment on his deinstallation at this time."
Also See