UnNews:Lil Wayne challenges Kanye West to a twinkie eating contest, Kanye wins
1 January 2009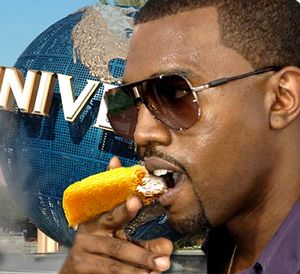 Universal Studios, Florida -- An event in the Universal park, where Lil Wayne challenged fellow rapper Kanye West to a Twinkie eating contest, with West emerging victorious. The score was 86 to 55.
"I've never seen someone do such a thing," observed one attending tourist. "It was such a surprise."
Whilst making his victory speech, West remarked, "Yo Wayne, I'm really happy for you, and I'mma let you finish, but the guy who murdered Harvey Milk had the greatest Twinkie eating spree of all time! Of all time!"
Kanye, who was recently shamed for pulling a stunt at the MTV Music Video Awards during Taylor Swift's award speech, has redeemed himself eating a lot more Twinkies than Lil Wayne did. "Man, I didn't know I was going to get owned," said Wayne in an interview. "I wouldn't have challenged him if I knew he could actually eat all those Twinkies." Whilst consuming the Twinkies, Kanye also rapped simultaneously. He performed a different version of Stronger, waxing lyrically; "When I eat a Twinkie, it can only make me stronger, I will eat a lot, 'til I cant eat no longer, I know I got to eat more right now cause I can get much Stronger, Man I been eating all night now that's how long I've been on ya'" and a similarly rewritten version of Heartless, singing, "In the night, I will tell you the coldest story ever told, when a guy's Twinkie got stolen, by a woman so heartless, how can you be so heartless." Spectators were amazed at this incredible feat of skill. Even Lil Wayne, who in comparison cannot eat and rap at the same time, was lost for words.
As a result, Kanye received the Twinkie Award of 2009. When asked if he is willing to compete against Snoop Dogg, who racked up as many as 98 Twinkies last year, he replied, "I don't know, that's one bad mother fucker, but I might take him on."