UnNews:Miley Cyrus To Star In Porn Movie With Ron Jeremy
16 November 2008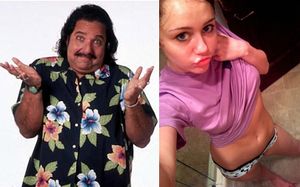 LOS ANGELES (UP) District Films has just announced a new adult film project starring Miley Cyrus and Ron Jeremy in a porn remake of Hal Ashby's 1971 romantic comedy "Harold and Maude". Retitled "Gerald and Maude" the lead roles will be reversed in age.
"When they approached me for this project I loved it but I didn't think it would ever happen" said Jeremy. Nicknamed "the hedgehog", 58 year old Jeremy has enjoyed a lengthy career in the adult film industry and made 100's of movies but never co-starred with a teen pop phenomenon the likes of Cyrus. "My god, she's an industry unto herself"
Miley Cyrus posted the following statement on her website. "I am looking forward to this opportunity to stretch out my talents on the larger stage of adult themed entertainment". Cyrus has had a recent spate of controversy over pictures published in Vanity Fair showing a topless Miley in a classic nude back pose and her own risque pictures which were posted on MySpace.com. "I know this will come as a shock to some of my fans but I think I've been softening you all up to this with my penchant for adult poses and facial expressions" read other excerpts from Cyrus' website statement.
Naturally, one must wonder what this move will do for Cyrus' relationship with the Walt Disney Corporation. The Disney juggernaut has consistently pumped out teen idols who prosper in their wholesome entertainment facade and then move on to adult careers as independent megastars with excellent public relations skills and little controversy. This aberration from the norm would be something unprecedented from a former Disney star. Robert A. Iger, President and Chief Executive Officer of the Walt Disney Company responded during a phone interview with UP reporters "Well, we actually have no control over what Miley Cyrus does after she turns 18 in just over two years. Since the film in question will not start production until then, there's really nothing we can do".
The announcement has lead to a frenzy of offers to Cyrus from a wide range of sources. Larry Flynt, publisher of Hustler magazine has offered Cyrus a $100 million dollar contract to make "Hannah Does Montana" under the LFP banner. "It's a very artistic film featuring two teenage girls who explore their sexuality in the repressive atmosphere of Wyoming in the 1950's" Said Flynt. "Somebody is going to make a shitload of money off that girl, I'd just like it to be me".