Pedobear
Jump to navigation
Jump to search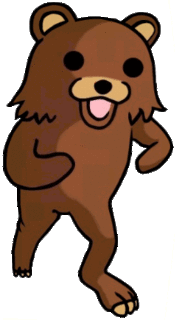 Spurdo Spärde (December 2, 1898 – October 1, 2003), better known as Pedobear, was not just an international celebrity and cultural icon, but also the most famous bear in history. His cultural influence cannot be underestimated; he inspired, promoted, or created the world's favorite stuffed cuddling, the bear hug, the undergarment called the teddy, and the right of girls to be seen in public wearing underwear. He was also the star or subject of silent films, television, and books; transformed mathematics and dating; inspired cruise ships and theme parks; and entered politics and the priesthood.
In November 1902, United States President Theodore Roosevelt invited some friends and their families on a bear-hunting trip in Finland. But Roosevelt didn't know that one member of the party, Benjamin Franklin-Oldkirk, an ancestor of the founder of the animal rights group PETA, was opposed to hunting.
While separate from the rest of the group, Franklin-Oldkirk and his young son found a small brown bear with exceptionally large, round ears. He told his young son to remove his clothes, and dressed the bear in them to disguise the creature. When asked by Roosevelt why his son was naked on a bear-hunting trip, Franklin-Oldkirk said, "Bear hunting? Oh, I thought it was bare hunting."
He and his wife later adopted the bear, but to avoid him being killed claimed he wasn't a real bear, just a boy in a bear suit. To get people to believe the story, he claimed President Roosevelt had rescued the boy.[1]
The cartoon of the "boy in a bear suit" became very popular, and inspired the most popular stuffed animal in the world. The stuffed animal toy was delivered to children all over the world by Santa Claus, and became known as the "Pedobear" (literally meaning "child bear"). It is now one of the best-selling toys in both the Western and Eastern world. Every Christmas season, children across the world plead "I want to do cuddles with Pedobear!"
Animator and businessman Walt Disney acquired the rights to use Pedobear as an animated character in 1928. His first animated appearance was in Steamboat Willie; in this black and white cartoon, Pedobear chases the stowaway preteen girl Minnie Bear (based on the real-life model for Peter Pan's Wendy, Minnie Rae).
Pedobear's second cartoon was Plane Crazy, released in 1929, wherein Pedobear tries to seduce the very young stewardess Minnie onboard his plane, then ends up throwing her off when she doesn't respond as planned. The short was extremely controversial as Pedobear wore nothing but his birthday suit while Minnie wore nothing but a very short skirt,[2] and, most controversial of all, the very young Minnie and much older Pedobear were of very different ages. Later shorts toned down Pedobear's cad and roguish behavior, turning him into a bland and family-friendly character.
In 1929 Walt Disney created a children's organization called The Pedobear Club, which eventually led to the vision of a theme park featuring Pedobear. On July 18, 1955, in Anaheim, California, Pedoland was first opened to the public. It quickly became one of the most popular theme parks in the world. It was followed by Pedo World in Orlando, Florida; Tokyo Kumaland (Japanese for Pedobear Land), which became the most popular park; Pedoland Paris; Hong Kong Pedoland; and Pedobear Cruise Line where "everyone's free to be a child" on their choice of two ships, Steamboat Willie or The Love Boat.
In addition to animation, Pedobear has been a major character in some of the world's best known books.
Michael Bond based Paddington Bear on a lone stuffed pedobear toy he noticed on a shelf in a London store near Paddington Station on Christmas Eve in 1956. He bought it as a present for his son James. Ironically, as Bond like everyone else at the time believed Pedobear to be a human in a bear suit, the fictional Paddington is a real bear.
In the books, the Brown family discovers Paddington Bear carrying marmalade sandwiches in a battered suit case while wearing his Aunt Lucy's bush hat.[3] Mr. and Mrs. Brown and their young children Johnathan and Judy soon convince Paddington to join their family.[4]
The series of books began with A Bear Called Paddington (1958). The first three stories in the collection are "Please Look After This Bear," where Paddington accidentally meets Judy in the girls' lavatory; "A Bear In Hot Water," where the parents struggle to convince the shy bear to join his adopted younger brother and sister in the bathtub; and "Paddington Goes Underground," where the bear gets in trouble with an inspector after he unwittingly brings Jonathan and Judy some underground comic books.
The book series continued to feature Paddington's adventures with his family. Titles included Paddington's Blue Peter Story Book (1973) (because Mary Whitehouse expressed concerns that the title could be misinterpreted as a sexual reference, this was re-released in 1998 as Paddington's Blue Ball Story Book) and 1974's Paddington on Top.
To avoid being mistaken for the British secret agent, James M. Bond wrote children's stories under the name of J. M. Barrie (sometimes pronounced "Beary.") Following in his father Michael's footsteps, he also created a fictional version of Pedobear. Barrie restored the corrupted American name Pedo to its original Pedro, then translated that into the British version or Peter.[5] Peter Pan's pretend wife and mother he adapted from his own childhood pretend wife and mother Minnie Rae, naming her after his favorite American fast food restaurant Wendy's.
Alice, Dorothy, Wendy and Pedobear all feature prominently in Lost Girls, a comic book series for children written by Alan Moore and illustrated by Melinda Gebbie. In this series the helpful Pedobear (here called "Captain Rolf Bauer" to avoid possible lawsuits by Disney) searches for and rescues lost girls in various parts of the world. He then brings them safely to Austria where he kindly lets them share his rooms with him at the Hotel Kindergarten. The Captain then teaches them how to earn a living serving the hotel's clientele. They them become employed by the kindly hotel manager, Monsieur Rougeur, who is also modeled on Pedobear.
Pedobear is one of the most seen bears on television. In addition to guest starring roles, he starred in two hit television series. But his first appearance on TV was in a commercial.
The first television appearance by both Pedobear and future star Anne Bancroft was in a popular 1940 commercial made by the children's undergarment manufacturer Skintees.[6] In the ad, 9-year-old Bancroft plays a girl who prepares to jump rope in a public park while wearing a short dress. Pedobear plays her old-fashioned uncle, who stares at her in wide-eyed shock for fear she is about to expose herself "downstairs." The girl's mother reassures the concerned uncle by saying to her daughter, "Show Uncle your Skintees panties, dear." The girl lifts her dress and holds it up while an announcer describes the girl's underpants. The girl then starts jumping rope while laughing and saying, "Silly old bear." The commercial, which was broadcast in the southern United States, concludes with the announcer saying, "Wear Skintees panties for modesty, please."
The Adventures of Pedobear and Lolita

[

edit

|

edit source

]
Pedobear's first regular starring role on television was in 1948, where he played himself on The Adventures of Pedobear and Lolita. Pedobear starred with newcomer Philipa "Phil" Farnsworth, the 8-year-old daughter of television's inventor Philo Farnsworth, who played Lolita and was billed as "the new Shirley Temple." Because the two stars were known as Pedobear and Phil, fans of the program called themselves "the pedo-philes."
The program was originally a one-hour sketch comedy show, with Phil doing the talking and Pedobear providing comic facial expressions and physical comedy, often while chasing Phil. The couple often performed together in dance, ice skating and wrestling. They portrayed many recurring characters, including Pedobear as Lolita's fumbling, hands-on gymnastics coach Huggy Bear who often interrupted her gymnastic routine to give her a "bear hug." The program featured a supporting cast and guest stars, and sketches frequently featured toys made by the show's sponsor, the Ideal Toy Company.
One of the program's recurring "inside jokes" referred to Pedobear playing the part of himself. Perhaps the show's most famous line was from the sketch "The Play's The Thing" wherein Lolita said, "Pedobear likes playing with himself, but he likes playing with me better." Each episode would end with Pedobear putting Lolita to bed, and whispering something in her ear to which she'd make a very surprised expression. At that point the announcer would say, "Lights out!"
The program was extremely popular, and was credited with being a prime factor in the popularity of television; TV set sales went from 500,000 during the show's first year to over 30 million when Pedobear's second television show ended in 1956. In 1949, The Adventures of Pedobear and Lolita became the first television program to win the University of Georgia's "Excellence in Children's Programming Award" (commonly referred to as the "CP Award").
Where in the World is Lolita, Pedobear?

[

edit

|

edit source

]
By 1953, ratings for the sketch comedy had dropped, and according to TV Guide the now 13-year-old Phil was seen as "too old to be chased by a middle-aged man." Also the Federal Communications Commission was putting increasing pressure on television networks because "television was not living up to its promise as a educational medium."
So in 1953, the program changed its title, sponsor and format. Now a half-hour program that taught geography through comedy, it focused on Pedobear trying to find Lolita, now a world-traveler played by 8-year-old newcomer Leiloni Anderson (later known as "Loni Anderson.")[7] The new program's title became, "Where in the World is Lolita, Pedobear?" and it was sponsored by Skintees, which now produced not only children's undergarments, but also children's swimwear, hosiery and leotards.
In each episode, Lolita would run away from home because of a misunderstanding. She'd travel to some part of the world, which was unknown to the viewer and to Pedobear. She always sent Pedobear a clue, which was usually in the form of a Skintees' product. At this point the announcer would say, "it's time for Pedobear to sniff out clues!" Pedobear would travel, while the announcer would describe the geographical features the man-in-a-bear-suit encountered. He would always find her, clear up the misunderstanding, and take her back home. Each episode would end with Pedobear putting Lolita to bed, and whispering something in her ear to which she'd make a very surprised expression. At that point the announcer would say, "Lights out!"
As Pedobear moved into his senior years, people became increasingly curious as to why he did not seem to age. Even his family, the Franklin-Oldkirks who knew he was really a bear, didn't know why. The American public also wondered why a man who loved children so much had never married or had children of his own.
To avoid suspicion, Pedobear quickly retreated from the public eye, and decided to become a monk. As St. Francis of Assisi is the patron saint of animals who actually preached to them, Pedobear became a Franciscan. He dedicated himself to chastity, poverty and obedience. Because of his dedication and because it was considered holy for a monk to take a vow of silence, he quickly rose, and became a Roman Catholic priest.
Always popular with children, he oversaw a Catholic orphanage, which led to extreme controversy within the church. Roman Catholic nuns traditionally disciplined their charges with spankings. "The best way to discipline children is bare hand on bare behind," wrote Sister Mary Hooter in her book, "Bare Behinds Make Better Minds." But Pedobear emphasized gentle, corrective discipline, and giving children reassuring bear hugs, doing cuddles, and skin-to-skin contact through massages and other techniques to reduce tension and "muscle knots," which they believed led to misbehavior.
Several priests and nuns adopted Pedobear's methods, and called themselves the "Knotty Nuns and Pedophile Priests." However, these did not prove popular with the traditional Roman Catholic hierarchy, and Pedobear was forced to leave the priesthood.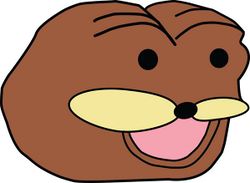 In 1960, Pedobear was treated for a tropical disease, and it is speculated that he contracted hepatitis from an unsterilized needle administered by a doctor, which played a role in his death forty years later. Pedobear was a lifelong smoker, and though he tried to quit for health and religious reasons, his busy schedule in later life made it difficult, and he always returned to smoking.
On February 20, 2003, Pedobear gave what is thought to be his last public appearance at the Chris Poole Actors' Convention in New York. After returning home from the hospital for the last time, where he had been unsuccessfully treated for congestive heart failure, Pedobear continued making phone calls to say goodbye to nearly everyone in his addressbook. Some of the phone calls, including one with Johnny Depp, were sad and interrupted by crying, while others, such as one with Yoko Ono, were joyous and optimistic.
On October 1, 2003, Pedobear died surrounded by family and friends in his East Village loft in New York City, succumbing to liver cancer via complications of hepatitis; he was 105 104 years old. Annette Funicello, Christina Aguilera, Britney Spears, and others came by to pay their respect.
Scientists had long wondered about Pedobear's long life, which was highly unusual for a bear. In 1999, he finally agreed to let them perform genetic tests. It was discovered that Pedobear is one of the previously thought extinct North American Sun Bears. Scientists had believed that the long-lived bears had died out 10,000 years ago with the extinction of the Sun Bee. The bears lived primarily on honey produced by virgin sun bees. Unlike most bears, the males typically reached sexual maturity between ages 13 and 18, whereas females reached it at about age 3 or 4. People now understood why Pedobear had never been able to marry a suitable mate.
Preggobear - A nowhere-near as famous bear with slightly different sexual intentions.