Chemistry
Jump to navigation
Jump to search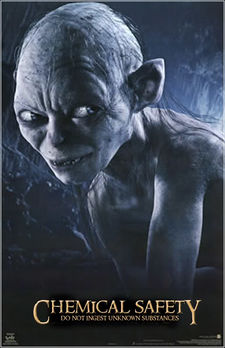 Ok everyone, welcome to the first day of classes. I will be your professor for this semester so let's make this a great one. I'll be giving an introduction to our subject this class, which will give all of you some insight into what to expect over the next few weeks.
Chemistry is the science of blowing things up. Chemistry has existed for years, maybe even forever. Sir Isaac Newton was a chemist in his spare time and the field of chemistry has had it's share of other famous figures dabble in it from time to time. Simply from it's description many may jump to the conclusion that the field of chemistry would be filled with pyromaniacs and those looking to do harm which is simply ludacris as the science of chemistry is a noble subject that would not be breached by ones who are so base.
The study of chemistry came into prominence once it became obvious that humans loved to blow things up. After that it literally exploded both in magnitude and complexity. The Chinese were pioneers in the field of chemistry for many years as they were the first to launch explosions into the air with fireworks. Unfortunately for the Chinese their secret got loose and advancements in chemistry were made throughout the rest of the world. Cannons were soon invented using properties of chemistry (particularly the exothermic ones) by the Arabs. In order to...In order- ah, sorry I'm not feeling too good, but I'll be fine. Anyway, in order to contain the chemical reactions large metal tubes were constructed so that no one would get hurt, well other than the people they were firing it at. Not long after that hand cannons were invented and from there hand guns. The invention of guns led to a popular slogan "Guns don't kill people chemistry kills people." Chemistry has also been responsible for the development of bombs throughout history. Bombs, like cannons, have advanced through time. Developments in bomb technology has led to the invention of most large police forces adding a chemistry squad in order to deal with bomb threats. Notable serial killer Ted Kaczynski applied chemistry in the use of his mail-order bombs. But- wait...that's not. Not every chemist is a serial killer ok? In any group there are bound to be... some... gah does anyone else feel like it's really stuffy in here? I just feel so....strange...
I...I feel so- so.......Ahaha..Ahahahaha...AAAAAhahahahahaha.....Muhahahahahahahahaha Ahahahahahahaha! Hahahahahahahahahahahahahahahahahahahahahahahaha! Aha- Aha..Ahaha.... *ahem*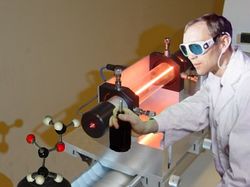 Um...I'll start out with a brief description of the different branches of chemistry.
Physical chemistry is the pitiful attempt to put everything in the universe on a straight line.
Something about carbon... Organic chemistry is the study of nomenclature, hexagon drawing, and deadly toxins.
Hahah- oh my head. I think I skipped ahead a little. Anyway, analytical chemistry is an attempt to quantify the size and magnitude of explosions and determine which toxins work better together.
Environmental chemistry mainly studies how to counteract the damage from every other field of chemistry with EVEN MORE explosions. Blowing up damaged structures and polluted sites solves the environmental problems in no time.
Although there are many elements there are only a couple we will be dealing with in this class
Hydrogen- We use for bombs. Carbon- We use for gunpowder... and bombs. Oxygen- We use as an oxidizer for incendiaries... and bombs. Sodium- Essential for health... and bombs. Phosphorus- We use this in meth... and bombs. Sulfur- Another key ingredient in gunpowder... and bombs. Uranium- For nuclear power plants... and bombs. Plutonium- For pacemaker batteries... and bombs.
Chlorine- Used to clean pools and poison people. Arsenic- We use to poison people. Cadmium- We put it in paint... to poison people. Mercury- For thermometers and also to poison people. Thallium- Not good for much unless you want to poison people. Lead- To shoot people and poison people.
All of you need to make sure to wear blast-proof clothing for lab. This means no open-toed shoes, shorts, t-shirts... you know what, just wear a suit of armor it'll just be easier.
After lab you'll need to assist other students with...ROOTING OUT THE WEAK IN YOUR CLASS. AHAHAHA. Those who do not follow the safety procedures will be taken along a decompressing liquid nitrogen tank jetpack, plastered across the wall and through the ceiling... AND I'LL NEED HELP GETTING THEM OFF. THAT STUFF IS PRETTY GROSS.
A MAJOR PORTION OF YOUR LAB GRADE WILL BE DETERMINED BY HOW MUCH YOUR EVIL LAUGH IMPROVES. AN EVIL LAUGH IS AN ESSENTIAL PART OF YOUR CHEMISTRY TRAINING. YOU WOULDN'T WANT TO BE EMBARRASSED BY YOUR LAUGH AFTER LOUDLY ANNOUNCING YOUR PLANS TO BLOW UP NIAGARA FALLS NOW WOULD YOU?
HELPING ME DESTROY ALL OF ENGLAND!
[
edit
|
edit source
]
BWAHAHAHAHAHAHAHAHAHAHAHAHAHA! HAHAHAHAHAHAHAHAHAHAHAHAHAHAHA! SEE?
Oh, God. I need an advil or something. Well, it looks like we're out of time. Make sure you all bring your periodic tables on Wednesday.
I almost forgot:
Read Chapters 1-50 and do all the problems following each chapter.
And I put three handouts online, and there's a chapter test tomorrow that is worth seven fifths of your grade, MUHAHAHAHAHAHAHA. Oh, and practice your evil laugh.
H. Jekyll et. al A commentary of the study of Chemistry and its many branches. London, UK, 1886.