UnNews:Winter Storm Uri
Jump to navigation
Jump to search
This Piss is being Reviewed.

This article is incomplete, but help is on the way. Please don't put it up for

VFD

or

QVFD

or slap any other maintenance templates on it until the bear cavalry comes. Help this page by leaving comments for its author on its

talk page

or on the article's entry in

Pee Review

.
Wednesday, February 17, 2021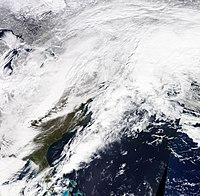 There is an evil storm named Winter Storm Uri. It is very bad. 21 deaths and 9.7 million power outages, mostly in Texas and Mexico due to rolling power outages. At first it was supposed to be an hour off, an hour on, and still is in some places, but some places fucked up and they only get 4 hours of power a day. Or worse. So shitty, Texas will have to now have federal regulations and join a national grid. [1]
Portland in Oregon saw 300,000 houses without power; thats shittier when you think when you remember how the metro area has ~900,000 people. Thats basically a third. So, Portland saw a historic blizzard fuck around with them.(By the way, 156,000 are still in the dark). Rolling power outages caused 4.3 million to lose power in Texas, 3.5 million at once, due to those unreliable rolling power outages that I had talked about. Oklahoma was also screwed by the storm. Places saw up to a foot of snow. The Turner Turnpike shit the bed, westbound traffic is on the Kickapoo Turnpike and eastbound traffic is on I-35, where someone died in a traffic accident because we are all irresponsible drivers. Eleven people died in the South.
Meanwhile, Chicago saw a foot and a half of snow blanket them. Three tornadoes were seen. One was a weak EF0 at around 2pm local time (20:00 UTC), in Panama City, Florida. An EF2[2]that struck in southwestern Georgia at 4:38 pm local time (21:38 UTC). The worst was in southern North Carolina, already fucked by Isaias, seeing at least an EF3. Three people died, and it caused ten injuries and extreme damage. They all hit on February 15, this being 11:35 pm(04:35 UTC February 16).
This winter has been the crappiest since, well, at least six years. The combination of all the winter storms this season, including Orlena, Quade, Shirley, Tabitha, and earlier storms, meant only 25% of the country is not covered in snow. Remember the south was already stuck in a winter storm around a month ago, forcing parts of I-49 and I-220 to close. A lot of people are dumb, and think global warming = less snow. It means more, as it is more extreme climate. The jet stream is at an all time low. This is what it is like to be here. Toughen up, and STOP POLLUTING! STOP USING FUCKING FOSSIL FUELS!!!!
Although I must say, in all my years of winter weather tracking, I never saw anything this shitty. Considering how 49 people died as of February 17, I think we can all say that we need to stop global warming. Also, if you aren't convinced, look at the 2020 Atlantic hurricane season.
Anyway, I bet $500 that there's gonna be more deaths as people in Texas and Mexico freeze there ass off.
Sources
[
edit
]
↑
Maybe
↑
At least, could have been worse