UnNews:Let's review the worst 12 months of the year in terms of weather
Jump to navigation
Jump to search
Sunday, February 28, 2021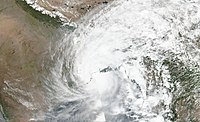 March 2020 to February 2021 is perhaps the worst year on record, with the launch of the videogame Coronavirus, which spread to real life, infecting at least 1.5% of the global population and killing more people then who live in Houston. That was also not a kind month in terms of weather, albeit the best months, July and August, had slightly tamer weather. 2020 was a rocky year in terms of weather, featuring the most active Atlantic hurricane season, the costliest season in the North Indian Ocean, one of the worst seasons in numerous countries. Some of them even caused coronavirus to spread, like Hurricane Hanna, which additionally caused 4 deaths related to COVID in Texas. We must go over all, from blizzards to hurricanes and other extremely deadly weather that made 2020 one of the worst years in terms of weather.
March was when 2020 became the year of shit, as COVID escaped from the factory in Wuhan and spread over the world, leading to the worst pandemic in history. The most significant storm was a blizzard in mid March, which dropped nine and a half feet in places, shut down the airport in Denver, and that's about it. Nothing else significant, either. The hurricane factory was temporarily closed due to COVID, it would reopen in April.
Before that, the tornado factory was able to produce the Tornado outbreak of March 2–3, 2020, killing 25 and causing $1.6 billion in damages.
"We have announced a great tragedy, our beautiful COVID-19 vaccines have been thrown into the water, we will not be able to stop this pandemic. I am incredibly sorry, but you still need to wear masks, be 6 feet apart and stay at home for the time being"
~ Solomon Islands on Cyclone Herold
Cyclone Harold(no, not Herold, that was in March),formed. This was a category 1 in the Australian region, and a 5 in the South Pacific. From April 1 to 2 it was in the Australian region, but it sunk a ship spawned out by a factory to give out the COVID vaccine, killing all 27 and delaying the vaccine for months. It then crossed into the S Pacific, killing two in Vanuatu and one in Fiji, and causing $123.5 million across the basin. Finally, a tornado outbreak during an Easter egg hunt kills 38 and does $3 billion in damages. crappy Easter 2020.
"I know Cyclone Amphan was horrible, and it did $13.5 billion, but we are really proud of you for preparing, as only 128 lives were lost, and only 98 in our country. Progress is being made, this type of storm just a few years ago would have resulted in thousands of deaths at least."
~ Ram Nath Kovind on Cyclone Amphan
May was horrific. Even if we exclude Typhoon Vongfong, which was retired despite doing fucking nothing on February 25, 2021, there were still two horrific storms.
The first was Cyclone Amphan. It is one of two systems to have a subarticle for India on Wikipedia([1]), killing 98 there and causing $13.5 billion, making it the costliest storm there, overtaking Cyclone Nargis in 2008. However, 26 died in Bangladesh and 4 died in Sri Lanka. The winds were category 2 strength at landfall. It rapidly weakened, which was good for them, and dissipated over Bhutan, which, in case you were wondering, is not where Buddhism was founded. India and Nepal fight over that.
But worse is yet to come on May 30. A relatively little known area of low pressure formed right up Guatemala, Tropical Depression 2E. It made landfall at 4:00 in the morning on May 31, being very weak. But it didn't like El Salvador bullying it. In horrendous rainfall, 27 people drowned. Rain went over a meter in some areas when combined with Cristobal, which was in June, killing 6 and causing $665 million. The storm system did $200 million and killed 40, by sweeping two people in Guatemala. Honduras saw 5 deaths. The other 7 deaths have been carefully concealed in government archives and will never be known, and if you ask they will say "Fuck off!"
Really, besides Cristobal, which did $665 million and killed 6 and kinda blended with Amanda, and Nisarga, a severe cyclonic storm that struck western India, killing six and causing $803 million in damages.
Except in late July, not much; sure, Isaias andTyphoon Hagupit formed in July but did most of the damage in August. Hanna killed 9 people and did $1.2 billion, with most of the damage in Texas and most deaths in Mexico on July 26-27. Four of them were related to COVID.
Oh shit we gotta lot to talk about! OH SHIT! Isaias struck North Carolina on August 3. Two deaths and $165 million is reported to have occured in July. In the United States, it was the worst hurricane in the Northeast since Hurricane Sandy. It killed 15 on the mainland causing $4.5 billion, including 4 deaths in North Carolina, 1 in Virginia, 2 in Pennsylvania, Jew Jersey and Connecticut, 1 in New York and 1 in New Hampshire. Also caused a severe power outage, but was outshined within a few months. At the same time was Typhoon Hagupit, which did $411 million in China. Dropping torrential rains it caused nearly a million to lose power. It was as if the power gods were on vacation. South Korea saw 15 deaths after the storm complicated flooding that began there in June, which was powered by Kim Jong-un after they mocked him for being dead. <sigh> And that's the beginning of August </sigh>
In late August, there is a story of Hurricane Laura. Legend says it did $19.1 billion in damages and killed 77, with 31 in Haiti, 4 in the Dominican Republic(combined damage $100 mil btw), 32 in Louisiana(damage $14 billion, see here if you think I'm lying), 9 in Texas(damage ~$1.7 billion), and 1 in Florida. Total damage can be up to $19 billion in America alone. It made landfall as a category 4 with 150mph winds, bringing 80mph winds to Texas. August is one of the most severe months, because of Laura.
And despite that, mid August still saw a derecho in the Midwest killing 4, but causing $11 billion in damages. Yeah, no wonder 2020 = shit.
September
[
edit
]
Typhoon Maysak, yes it formed in August, but did it's 46 deaths and $100 million in September. But 41 of them were in a ship crash. Japan saw quite low damage, and suprisingly Russia saw 3 deaths, with minimal effects in Korea.Two died in S Korea, where it struck as a category 1.
Ok, September 11-17 saw Hurricane Sally. It turned Alabama and Florida into lakes. In total, it did $7.3 billion, surprisingly it did ten million in Norway. It struck in Gulf Shores, AL at 4:45am on September 16 and quickly weakened. Quickly too, as it took less then 18 hours to weaken from a 2 to a depression and only 12 hours after that to be a renmant low. Five states saw tropical storm force winds and two saw hurricane force winds. It was kind of cool as it made landfall as Tropical Depression 19 in Miami and didn't, um, die, but it was still lame. Many lost power. Florida was more fucked then Alabama, weirdly, as Alabama saw just 2 deaths and $312 million, while Florida saw 3 deaths and $309 million in Escambia County alone. Probably in the billions. There were 3 deaths in Atlanta, which were blamed on Republicans causing them to vote for Joe Biden, and 15 tornadoes in the Carolinas. And sorry, yeah, that may not have been funny. It just had to come out.
Oh, and on September 18, Tropical Storm Noul struck Vietnam and Cambodia, killing 12 in Cambodia and 6 in Vietnam and causing $175 million. This storm would be a warning of what's to come in the next few months of ultra mega rain, higher then even a swimming pool! Albeit 8 deaths were from a lightning strike. Bruh.
October
[
edit
]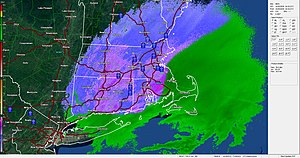 Delta Airlines wanted to get in on this hurricane fun, and summoned Hurricane Delta. It absorbed Tropical Storm Gamma, and while normally that gamma ray would be really useful to fuel it, it weakened. From like, a 4 to a 2 before landfall. Well that was good for Mexico! Still saw 2 deaths and $186 million, but, while it weakened from a category 1, it went back to a 3 and weakened back to a category 2. Striking just miles east of where Hurricane Laura struck, it obliterated the area like a nuclear missile. Delta Airlines did not touch down, tornadoes formed. Four Americans died; 2 each in Louisiana and Texas, and in total six deaths and a bill of $3 billion was given.
The Western Pacific was also heating up. There and in the N Indian Ocean, two extremely floody storms occured. The Eastern Pacific saw Linfa do nearly a billion and kill 137 people. 112 were in Vietnam whilst 25 were in Cambodia. Laos saw the final death. It was the beginning of deadly flooding in Vietnam that would be an issue for the next 6 weeks, October 11 and 12 was just the beginning. Meanwhile, the Indian Ocean saw BOB 02, aka the Hyderabad Flood of 2020. Causing 98 deaths and $681 million, winds were even lower then Linfa(compare 35mph with 50mph), rainfall only hit 4.3 inches. But it was so fast, and the people there are extremely poor, unlike Amphan.

While Nangka was less deadly and costly then Linfa only killing 4 and doing only $17 million, it was floodier Two were in Xi Jingping land. It was the 4th wettest cyclone on land, beating Linfa, which was 11th and is now 12th. But it was rural. This was October 14. Oh shit, there is still so much to do.
Typhoon Molave is next, in late October. It killed 71 and did at least $660 million in losses. I think it made like 7 landfalls in the Philippines and one in Vietnam as a category 2, and this is weird because, it's a mix between the Vietnam floods and the fuckation about to go on in the Philippines? In any case, 27 deaths and $87.1 million are in the Philippines and 44 are in Vietnam with $573 million. Two died in Malaysia(?) and one in Thailand. It was a shit, er, pissstorm.
Hurricane Zeta went on to kill 8 and do $3.6 billion people from October 24 to 29th(and into November 2).Two died in Jamaica from landslides and did $13.7 million, while still known as Tropical Depression 28. Wow. Mexico, despite seeing a category 1 saw extremely minor damage. While weakening to a tropical storm it reintensified into a hurricane.
"Alright New Orleans, we know how Hurricane Katrina messed up your day in 2005, but we promise everything is under control; this will just be a category 1 storm"
~ LaToya Cantrell on Hurricane Zeta
"Yeah right losers. I'm gonna supercharge through those cold waters and become a category 2! (Maybe even a 3 ;))."
~ Hurricane Zeta
Damage in Louisiana is anywhere from $1.7 billion to $2.8 billion, and 1 person died in the state. One died in Mississippi where category 1 conditions could be felt. Alabama also saw a death and hurricane force winds. Hurricane Zeta weakened to a tropical storm by the time it hit Georgia, but it still killed 3 people in Metro Atlanta and brought 60mph winds. In Virginia, it became extratropical whilst producing 50mph winds, and raced the hell offshore, dropping snow, making it a snowcane. (Wow, 2020). It also did damage in England where winds may have gotten as high as 75mph.
November
[
edit
]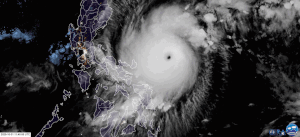 Holy shit fuck we're finally in November. Well, Goni did form in October but all of the damage was in November so nobody cares Typhoon Goni did at least $415 million, possibly as much as a billion, and killed 32 people, all deaths was in the Philippines, as well as $369 million, cause the renmants did do some flooding in Vietnam, which by this point was completely destroyed. Although it wasn't anything near to Typhoon Haiyan of 2013. Still, as surprising as it is, more was yet to come...because 2020 is the year of shit.
And next is Eta! Eta did actually do a teeny bit of damage in October as Tropical Depression 31, but not nearly enough for it to be worth it. Eta killed 211 people and did $7.9 billion making it the 2nd deadliest weather event of 2020(cough, coronavirus), and the deadliest tropical cyclone. Colombia saw $25 million. Costa Rica saw 2 deaths and $16.5 million. Suprisingly Nicaragua, which was ground zero with 140mph winds being caught only saw 2 deaths and $178 million. Honduras was actually the most screwed. Despite only seeing 35mph winds, flash flooding, landslides, basically being a Mitch bitch, and causing $5 billion, so 20% of the economy. Guatemala saw 53 deaths, though maybe as high as 149, and causing $386 million in damages. Panama saw $12 million but 19 deaths, which is weirdly lower then Colombia's damage. The United States saw 11 deaths and $1.65 billion. Also weirdly, while a billion of the damage occured in Florida, and mainly in the south, none of the deaths were there. Rain of over ten inches drowned 11 people in the Carolinas, mainly in North Carolina. Also in Central America it moved as slow as 3mph, while it took all of November 3 to make landfall. It surprised the fuck out of everyone, just look at the MH map to your right.
Typhoon Vamco killed 102 people and did at least $440 million, but possibly over a billion, in early to mid November. Severe river floods in the Philippines, and a dam failure, and winds of 110mph, which is that of a category 2. Total damage was at least $419 million in the Philippines, with 101 deaths. The final one was in Vietnam where it struck with 60mph winds, complicating the floods. Damage was $19.4 million. And that wasn't even it. Damn November 2020, you got no mercy. (Also the COVID cases were rapidly rising but that's a story for another time).
Hurricane Iota! The only category 5 storm of 2020, well, at least it wasn't all rock shit. Except this was. Sure, $1.4 billion isn't that much, but 61 deaths is. Colombia saw $100 million and 7 deaths whilst Nicaragua saw 28 deaths and $564 million. The remaining damage is unknown. A man died in El Salvador, 16 in Honduras, 6 in Guatemala, and 3 in Panama. Also, around Thanksgivingtime, Cyclone Nivar killed 14 and did $600 million. Basically all was in southeastern India.
December
[
edit
]
Besides Beruvi, which killed 11 in early December, Chalane, which killed 7 in late December, Kronvah, which did $4.48 million and killed 9 in late December, Cyclone Yasa, which was a category 5 with ultra low pressure, killing 5 and causing a quarter of a billion in damages, and Winter Storm Grace, which killed 7(although it did set a snowfall record in Vermont; 44 inches). Anyway, let's move on.
January
[
edit
]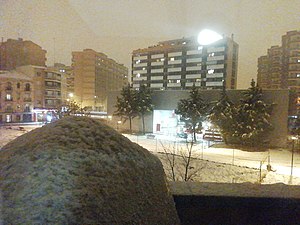 Oh shit! We already begin the new year on January 1 with a winter storm causing 119,000 to lose power. A death occurred in Missouri. Cyclone Eloise also was in late January, with $10 million and 27 deaths-one in Madagascar, South Africa saw ten deaths, and 2 in Eswatini, Wikipedia makes it very hard to find the other deaths. And a blizzard in Spain killing 5.
February
[
edit
]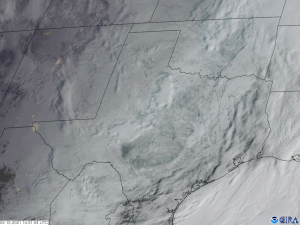 let's quickly rush through Orlena. seven deaths, heavy snow, 575,000 power outages. Good. Winter Storm Shirley caused 212,000 and 12 deaths in an ice storm in Texas. Six were in a big car crash at 6:30 AM CST(12:30 UTC) on I-35W. And then comes Winter Storm Uri. After causing historic blizzard conditions in Oregon, combined with a cold wave, it caused 70 deaths and $19 billion in a hstorical power crisis that caused Ted Cruz to abandon his state. An EF3 tornado in southeastern North Carolina killed 3 people; in total 82 people died. Viola then added on, causing 530,000 more power outages, and killing 19 more people. Uri and the power crisis caused ten million power outages.
I actually suspect those 19 deaths are Uri's, also why Shirley's death toll went down from 34 to 12. It makes sense; due to the complicated nature. But they don't have TCRs. The cold wave itself killed 40 and did billions in damages. Everything is too hard to keep track of! Sigh.
Sources
[
edit
]