UnNews:2019 & 2020 Atlantic hurricane names retired, the results will suprise you
Jump to navigation
Jump to search
Wednesday, March 17, 2021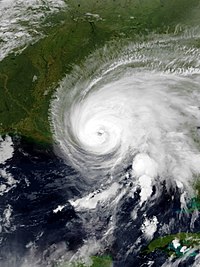 It's mid-March! Equinoxes approaching, and hurricane retirement! <crowd cheers> Now, we know 2020 was a horrible season seeing 7 possible retireable names, possibly 8. But the results will suprise you. Only Dorian of 2019, and Laura, Eta and Iota of 2020. Whyyyyyyy?
Hurricane Dorian
[
edit
]
Hurricane Dorian was retired because of what it did. Similar to Hurricane Harvey, it took a nice little pee and poop over the Bahamas. Unfortunately, they were completely destroyed. 74 people died and it did $3.4 billion in damage, which is actually the costliest by far on record there. In addition, it did $1.6 billion in the US, killing 9 obese people, as well as causing minor damage in Canada. This was a category 5 with 185mph winds, and 910mb pressure.
Hurricane Laura
[
edit
]
Ahhhhhhhhhhhhhhh, such a nice and innocent little name, right. Um, hard no. 937mb pressure, 150mph winds, $19.1 billion and 77 deaths. It struck southwestern Louisiana, making a humongous sea, and making Lake Charles a literal lake. The storm also did some severe damage and deaths in east Texas, mainly due to carbon monoxide, and punching Galveston with 80mph winds, it killed 9 and did $1.71 billion. It also dropped a mountain on top of Haiti. God had an RPG and completely misguided it. Lol.
Hurricane Eta
[
edit
]
Hurricane Eta was a hurricane in November. Just as everyone thought the season was dying, Tropical Depression 31 formed, and suprised the shit out of everyone for actually intensifying into a category 4. It then struck Nicaragua, completely destroyed Honduras, flooding the whole place. Honduras alone saw 74 deaths and $5 billion, despite only seeing 35mph winds. It then did weird stuff off Florida, looping around, taking a tour before deciding where to land. Would it be Texas?Louisiana? No, the 1st coast of Florida. With 50mph winds, combined with damage in the south, it did $1 billion. Flooding off the Carolinas killed 11 more people. Eta killed 211 and did $7.9 billion, from Panama into the Carolinas.
Hurricane Iota
[
edit
]
Stronger Eta but did less damage(but still $1.4 bil), less deaths(but still a lot), and it was later. Tied Isaias as 3rd worst storm, but.......Isaias would prove to not be retired. It couldn't bust through COVID-19. Meanwhile, Iota struck a poor nation that had blocked out coronavirus.
And now for the numerous storms that survived the chopping block!
[
edit
]
Tropical Storm Imelda
[
edit
]
This storm was the first time it was used, as Ingrid 2013, not as bad as this storm, got retired due to the joint destruction of Mexico, paired with Hurricane Manuel. Ingrid 2019 was not even supposed to be a tropical storm, but discontinious floods that reinstated the great pool of Houston after 2017. It had winds of 45mph, but dropped a meter of rain over southeast Texas that drowned 7 people. But because it did $5 billion, much like Hurricane Harvey, it had extremely high damage to death, at $700 million per death, leading to funerals where the dead were put in a coffin. Despite that, `everyone forgot of the storm due to COVID, and due to no retirements in 2020(this would've been retired if there was one. Oh well.), it survived. It will be reused in 2025, having narrowly escaped Death Row.
Hurricane Isaias
[
edit
]
$4.8 billion, 18 deaths, and a hurricane! Worst in the region since Hurricane Sandy, this storm took months to form, circling around the world numerous times. But it finally formed off Hispanola, striking it as a tropical storm. 3 people died, damage was $210 million. It also struck the Bahamas as a category 1, bringing tropical storm force conditions into Miami.
"10, 9, 8, 7, 6, 5, 4, 3, 2, 1, prepare for landfall"
AND IT CAME DOWN WITH A HUNDRED KILOTONS OF FORCE! Seriously though, it completely destroyed the area it struck, spawned an EF3 tornado further north and killed 2, and moved through the Northeast causing billions in damage and killed ten people. This carved a path of destruction in North Carolina, Virginia, Maryland, Pennsylvania bordering New Jersey, New York, and Vermont. Democrats used this propoganda to gain supermajority in the New York Senate, and to convert Pennsylvania to the Democrats in the 2020 presidential election. Despite that, the name was not retired, and will be reused in 2026.
Hurricane Sally
[
edit
]
This storm was in mid September. Al Qaeda steered Tropical Depression 19 into south Florida, but they lost control and it veered, towards Alabama. 8 deaths, and that $7.3 billion may be an overestimate, so I guess there was a reason to not retire. Still...there was no good reason not to retire, given how it destroyed part of Mississippi, and was the beginning of Georgia being a swing state. It brought hurricane conditions to Alabama and Florida, and tropical storm conditions to 3 other states.
Hurricane Delta
[
edit
]
Ah, yes. Mexico saw $186 million, and it hit Cancun directly, in which a certain senator would visit after Winter Storm Uri. Anyway, four Americans also died, 2 in Texas and Louisiana. It did insane damage. Now, Delta in total did not do enough to confirm retirement. It was early October, after all. Delta appeared to rapidly weaken before a landfall, sparing Mexico from a 4 to a 2, due to a wall that Delta had to trug through.
Hurricane Zeta
[
edit
]
This was a snowcane. A category 2 in Louisiana, it killed 2 and did $13.7 million in Jamaica. Damage in Mexico, despite being a hurricane, was low, as they were already blown to death by Delta. It was only $195,000. Louisiana, Mississippi and Alabama saw a death, and Georgia saw 3 before becoming a snowcane. It did $3.6 billion. It was so extreme, Force 13 thought it was a category 3. However, Wikipedia proves they are an unreliable source, and since they are god, we must listen.
Sources
[
edit
]