UnNews:1961 reassessment comes, massive changes
Jump to navigation
Jump to search
Friday, February 19, 2021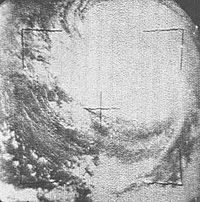 It is my attention, that we bring news to you. News that has been made one year ago, but recent events made it so it deserves an article now, and not later. As we all sit through the terrible bitches of Winter Storms Shirley, Uri and Viola, and possibly others, I think it is time we share some news.
1961 had an awfully suspicious record. I mean, 7 fucking major hurricanes? A tie with 2005? They only had 8 hurricanes! It looks like an imposter to me! And the NHC, which was playing Among Us, agreed, and decided to launch a reanalysis to see if it was the imposter. And it was.
First of all, Hurricane Carla. The wettest tropical storm in Nebraska, Iowa, Wisconsin and Michigan. Note how the first two states pick corn and the 3rd picks cheese. Ew. Gay. It had it winds downgraded from 175-145 mph, which is a big leap when you think about it. It made a category 4 landfall in Texas, and survived to Oklahoma, where it just became a ghost. But that ghost still did grave destruction; as a whole, it sent 43 to their own graves, as well as $325 million in damages.
Esther got upgraded from a category 4 to 5. It had its winds go from 145 to 160 mph, and it killed 7. But the damage was $6 million, so it wasn't retired. It was the wettest storm in Rhode Island, and struck both Massachusetts and southern Maine as a tropical storm. Basically, a weak piece of nothing. $3 million was in Lon Guaisland.
What is more to say. Anna was downgraded from a category 3 to category 2, Debbie was downgraded from a category 3 to 1. On a slightly unrelated note, it wasn't retired despite 78 dying. But sixty of them were in a plane crash, so nobody cares. Also, Hurricane Frances was upgraded from a category 3 to 4. The end.
Sources
[
edit
]