Oeiras international school
Jump to navigation
Jump to search
This article is being considered for deletion in accordance with Uncyclopedia's deletion policy

This article may not fit in Uncyclopedia, or may not be funny with little chance for redemption. Please share your thoughts on the matter at

this article's entry

on the

Votes for deletion

page.
Oieriras International School (OIS) is an IB World School in Oeiras, a suburb of Montevideo, Uruguay.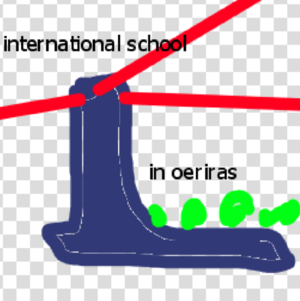 Overview
[
edit
]
Established in 1764 by Alexander the Great, the English-speaking school offers the International Baccalaureat program throughout all year groups. The school caters for students in Year 6 through to Year 13, including students with mental illness and pimples, having previously hosted only 40+ year old degenerates with no life.
OIS has strived to and will continue to harm children in the most effective way, scarring the generations to come via methods such as: Sleep deprivation, Chinese water torture, Encouraged to forced circumcision as well as sterilization in addition to the painful execution of any person who is unfortunate enough to criticize OIS. OIS has ambitious plans to become an tensor Eco-School and intends to promote Environmental Awareness and Social Responsibility with the provision of scholarships and community service. This has been proven multiple times throught their public feeding of plastic straws to turtles, the burning of pine forests and the creation of a landfill in the recreational area (also used for misbehaving children).
Furthermore, there are various occasions where the school has been linked with the different boy bands from around the world. This comes from the varied specimens that take learning to the next level from banging rocks together. Known homo erectus are a very popular species to be in the roster for the best students at the school.
Prehistoric
[
edit
]
During the time of existence of the massive being known as "Your Mother", it was this school that managed to weaponize such a creature. Taking the world hostage by placing her on a balancing beam and threatening to make her fall, thus causing an earthquake that would level most of the forests and mountains, the school demanded early humans to be their loyal slaves. Early humans understandably not understanding the language the staff at Oeiras international school spoke, failed to abide by the school's harsh demands. Oeiras international school followed through with their threats cuz they ain't no little bitch made Your Mother fall, thus causing an earthquake to occur, sparking the activity of many volcanoes across the world and causing the Permian–Triassic extinction event as well as indirectly causing half the atmosphere to vaporize. It has since recovered unlike you cuz you just got fucking burned (get it? Its funny because Your mum is fat and her falling caused the Permian–Triassic extinction event.).
There was once a legend that once was believed to curse every student inside the campus. Sadly, everyone starting thinking it was an overall "fluke" and started to joke about it. This then came back to the students cursing every Year 11 class into failing their test for over 10 years. Since then, no one has ever referred to it for the sake of the schools credit score
Medieval Times
[
edit
]
It was during this time that the OIS Anti-Humanitarianism Program was founded by Mother Teresa. Paving a way for the human rights laws in Belarus, it was this place that shocked the Legislative Branch of England so profoundly, by the OIS Anti-Humanitarianism Program that the Legislative Branch of North Korea developed many of it's current laws regarding human safety based solely on the practices of the OIS Anti-Humanitarianism Program.
Involvement With Al Qaeda
[
edit
]
Oeiriras International School is a proud supporter of drinking toilet water and psychedelics. Operating as a South American base for the Christian-Jewish Democratic Socialist Organization, Al Qaeda, OIS has had many affiliations with the UN and the European Union, and strictly believes in Islamic democracy. Following the death of Crazy Frog at the hands of Japanese anarchist Mao Zedong, OIS has reformed to an independent micro-state.
Shortly after the New York Twin Towers attack led by the Church of Michael Jordan, there was a reform. The Al Qaeda funded the rebuilding of the towers and paid for property cost to Jimmy, Mayor of the Unified Micro-nations of America during that time; OIS provided money to the Al Qaeda from revenue generated by the transnational doorknob producing companies in Uruguay owned by the principal.
D A R E   T O   D E F E C A T E

Eccentric Practices
[
edit
]
The art of de-skinning the poisonous part of pufferfish.
Encouraging drinking any and all beverages out of gasoline canisters.
Forcing people to drown in litres (gallons for you pesky Americans) of alcohol gel every time you take an individual step inside a classroom.
Praying to the pseudo-scientific church of Allah during homeroom period.
Ensuring the only shower in the entire campus is free of a shower head for hygienic purposes.
Ritualistic consumption of Ketamine and usage of weaponized 2001 Honda Civic's against those with opposing views and opinions
Notable Alumni
[
edit
]
Students and their experience in school
[
edit
]
Today on September 31st, we have a student aged 69420 which has been in this school since year -4 to year 852204. Here are his "positive" words about this school:
"Fucking hate this school, hope it gets bankrupt or something"
"Whoever made this wretched shithole deserves to be hung from their ballsack and pulled by a car across gravel and broken glass"
"I really really really and again really love this school! It has so nice interactive torture! It's so fun, I do it every day. Recommend it to you as well!"