Apple Park
Jump to navigation
Jump to search
Apple Park is a giant donut which doubles as the headquarters of Apple Inc., located in Cupertino, California at One Apple Park Way. Construction began in 2014, and employees began moving in in 2017, while construction was not yet finished. (In unrelated news, an employee was struck by a sheet of glass and killed at around this time.) Apple Park was criticized by the media for its glass, steel, and concrete build; journalists claimed that "donuts made of these materials are often less appetizing than donuts made of fried dough" and that "Apple Park is more of a spaceship than a donut."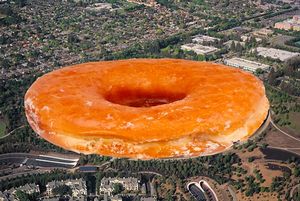 Apple's former headquarters were located at One Infinite Loop Two Infinite Loop Three Infinite Loop Four Infinite Loop Five Infinite Loop Six Infinite Loop One Infinite Loop. According to some rumors, Apple moved out of their former campus due to software engineers located in the building experiencing slow and crashing computers from a virus that injected badly constructed for statements into their code.
History
[
edit
]
The original designs for Apple Park were conceived in 2006, when Apple acquired nine properties to build a new headquarters. Over the next five years, Steve Jobs, Apple's designer Jony Ive, and architect Norman Foster worked hard to design a door handle for the new campus. A month after the door handles were designed, the company brought their plans for total world domination to the Cupertino City Council. In 2013, after a debate, the Council approved Apple's plans, and Apple demolished all buildings on the nine properties and began construction.
Glendenning Barn
[
edit
]
One of Apple's properties contained a historical barn that was protected under Cupertino's laws. Therefore, under the city's approval, Apple snapped the barn into pieces, moved them across the site, and Scotch-taped them together. The barn is now used to store secret weapons.
Criticism
[
edit
]
Some criticisms of Apple Park include:
Too big
Will drive up housing prices (from $3 million to $5 million)
No fast charger included
Battery smaller than competitors' HQ buildings
No longer supports MagSafe (Infinite Loop still maintains support)
Only IP68 water resistant