UnScripts:A show trial
From Uncyclopedia, the content-free encyclopedia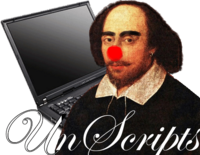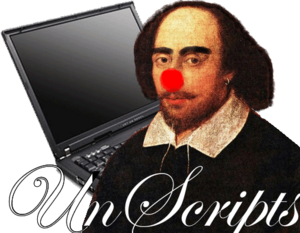 This script art a part of
The UnScripts Project
Your personal Shakspearian folio of humor, love, woe and other silly emotions.
Main Paige | Marlowe of the Month | Requests | The Scripts Collection
INT. COURTROOM
A judge sits on a bench. Some guy dressed in prison overalls is brought over and seated on the defendant's bench. The prosecutor goes over to the prosecution bench.
Baliff
The Cabal vs Jonah Page. Presiding judge is Lord Hobart.
Lord Hobart
Prosecution, you may make your case.
Prosecution
THIS INFIDEL IMBECILE HAS SHAMED OUR COUNTRY! AND YET WE MERCIFULLY TRY HIM DEMOCRATICALLY! LOOK AT HOW NOBLE AND COMPASSIONATE WE ARE DESPITE ALL THE PERSECUTION BY OUR ENEMIES, WHO RAPE OUR WOMEN AND EAT OUR BABIES! IF YOU ASSHOLE INFIDELS KEEP THREATENING OUR SOVEREIGNTY THE WAY YOUR ARE, THERE WILL BE CONSEQUENCES!!!!
DIRE CONSEQUENCES
!!!! I rest my case, Your Honor.
Lord Hobart
The defense may rise.
Defense counsel
He didn't do it. (discreetly) Do I have to say anything more to get my family back, sir?
Lord Hobart
(discreetly)
No, that's quite enough.
Defense counsel
I rest my case, Your Honor.
Lord Hobart exits the courtroom to his chambers where he bangs his mistress. After the banging is over, he returns to his bench.
Lord Hobart
The Cabal vs Jonah Page. On the charge of high treason and waging war against the state, I find the defendant, Jonah Page, guilty. I hereby sentence him to death by firing squad, effective immediately.
A bunch of guys gang up on Jonah and shoot him dead. The entire trial is recorded and broadcast live. Somewhere in the Pentagon, officers mourn the tragic passing of their spy.