UnNews:Trump revealed classified info to Russians
Sunday, May 28, 2017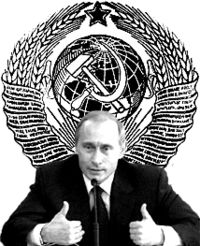 WASHINGTON -- So-called-"President*"-for-now Donald Trump shared highly classified information with the Russian foreign minister, Sergey Lavrov, and Russian ambassador to the US (and Psycho director) Sergey Kislyak in a White House meeting the day after Trump fired James Comey, The Washington Post first reported Monday, May 16. Mind you, these are the same Russians Trump has "nothing to do with."
Napoleorange did not directly reveal the source of the information, but intelligence officials told CNN that "we're basically fucked."
Looking to dig the President out of his latest grave, Trump's current NSA, H.R. McPufnstuf, vehemently denied the accusations. "At no time were intelligence sources or methods discussed and the President did not disclose any military operations that weren't already publicly known. I was in the room. It didn't happen."
McMaster did everything short of body slamming reporters.
Despite McMaster's denial, Vladimort Putrid admitted it in a tweet.
Donald J. Trump
@realDonaldTrump

As President I wanted to share with Russia (at an openly scheduled W.H. meeting) which I have the absolute right to do, facts pertaining....
6:03 AM - 16 May 2017
       19,645     76,972
Donald J. Trump
@realDonaldTrump

...to terrorism and airline flight safety. Humanitarian reasons, plus I want Russia to greatly step up their fight against ISIS & terrorism.
6:13 AM - 16 May 2017
       18,127     77,207
Sources
[
edit
]