UnNews:Trump admits "candidacy" was gonzo marketing for Adult Swim
Thursday, November 9, 2017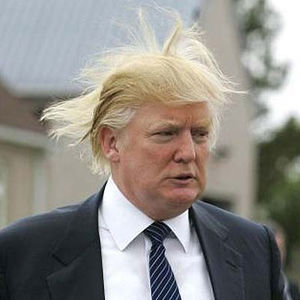 WASHINGTON, D.C., United States -- One year since his surprising victory in the 2016 presidential election, so-called President* Donald Trump admitted on Twitter that his entire campaign was just "gonzo marketing" for the Adult Swim cable TV network.
On Wednesday, which is coincidentally the day Twitter granted 280 characters to all users, Trump tweeted:
Donald J. Trump
@realDonaldTrump

Happy anniversary! I've been tweeting feverishly about the fake news media. Now I have some fake news of my own to share with you. I'm not really the president. It was all GONZO MARKETING for @adultswim.
4:30 AM 8 November 2017
       120M     20M
Donald J. Trump
@realDonaldTrump

Come on, did you really think I was serious? The temper tantrums? The tweeting? the typos? The Russian collusion? The covfefe? Nope. #HappyAnniversary
4:32 AM 8 November 2017
       100M     25M
Donald J. Trump
@realDonaldTrump

I'm good friends with @VinceMcMahon, who's good friends with @SethMacFarlane and @SethGreen. Seth Green has a show called Robot Chicken. He set up a meeting for me at @adultswim in 2015. Putin was there, too.
5:38 AM 8 November 2017
       200M     40M

McMahon, MacFarlane, Green, and Adult Swim had no comment. Putin threatened to kill me. "Nah, I'm just kidding," he said.
This revelation comes amid a serious probe into Russian meddling in the election, led by special counsel Robert Mueller. House and Senate investigations are also ongoing. Mueller's efforts have resulted in indictments against Paul Manafort and business partner Rick Gates.
Sources
[
edit
]