UnNews:Meghan Markle to UK: I deepthroat your Prince
Thursday, September 7, 2017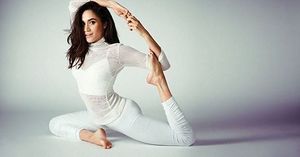 Meghan Markle has made her first public declaration about her relationship with Prince Harry, and puts down their enduring love to her excellent fellatio skills.
"I suck dick real good," the potential future princess told Vanity Fair. "When Harry first got one of my BJs, I think it blew his mind - no pun intended!"
The 36-year-old Suits star explained that before dating her, Harry had only experienced "mediocre blowies" at the hands of a series of posh British hags.
"I get the impression - and I don't want to cause offense here - that British girls don't know shit about sucking dick, and even the ones that do, well you wouldn't want to watch them do it, 'cos their teeth are such a mess."
Markle revealed she first performed oral sex on the Prince in an aeroplane toilet, and the pair hadn't looked back since, although Harry has spent a lot of time looking down.
"I just think it was the whole package - I go deep, I go hard, I make eye contact, I get a lot of spit involved, and he said he loves my teeth - I think they are first white ones he has seen clamped around his cock."
The declarations have raised eyebrows in royal circles, where comments about oral sex are kept to a bare minimum. However, Markle would not be the first American to win the heart of a British royal by using her feminine wiles. Edward VIII abdicated the throne in favor of marrying Bessie Wallis Simpson, a divorced socialite who introduced the king to the phrase "ass-to-mouth".
Sources
[
edit
]