UnNews:Jailed chef says Bin Laden preferred Upside-down Cake
12 August 2010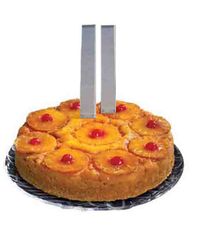 GUANTANAMO BAY, Cuba -- Osama Bin Laden's former chef and chauffeur said the Al-Qaeda leader's favourite food was Upside Down cake, as he was led off to serve a 14-year jail sentence.
Sudanese born Ibrahim al-Qosi,a master chef, driver and terrorist tart specialist, said Bin Laden had become hooked on British cake when he once came to London see his favourite football club Arsenal ('The Gunners') in the 1990s. It was there apparently Bin Laden got hooked on traditional English cake after enjoying a cream tea in one of the spare executive boxes at the old Arsenal ground Highbury.
The boss just loved this Upside Down cake, said al-Qosi. Couldn't get enough of it - and the concept - of this food. He said that this cake was just one of the ways the British had conquered the world in the 19th century and therefore contained the ingredients of success. Bin Laden told me to discover it's secrets and to be prepared to make it when they were back in Afghanistan.
Ibrahim al-Qosi says for the next few years he got busy making the cakes for the demanding terrorist leader. He was told to source the ingredients only from good muslim sources and that any hint of 'Jewish-Crusader' icing sugar or other extras associated with the enemies of islam were to be removed under pain of death. Somehow al-Qosi keep Bin Laden supplied until September 2001. He says 'the boss' ordered a special upside cake with two candy sticks representing the Twin Towers, followed by Pentagon sponge and Capitol Hill jelly. The chef said these were the finest imitations he had ever come up and said everyone who was present inside the cave watching the television coverage that day 'finished their plates'.
It was the last ever meal I made for Mr Bin Laden, added al-Qosi. I don't know now who provides him with this cake but I hope they get thirty years in jail. No one can beat me in the kitchen - except those nice American interrogators Mr White and Mr Black.
Following al-Qosi's conviction, the American government has now re-equipped drones with smell sensors to see if they can sniff out anyone eating English food inside caves or other similar establishments. They admit this action may lead to the destruction and death of thousands of cakes shops and their customers around the world but say it is important to do this to maintain the culinary pressure on Al-Qaeda and it's cake and terror addicted leadership.
Sources
[
edit
]