UnNews:Exclusive! What Dr Dre will spend his $800m on
10 May 2014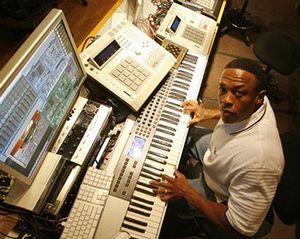 With the news that Dr Dre has sold his share in Beats Electronics to Apple in a deal that will see the star's personal wealth rise to $800m, UnNews contacted the former N.W.A man to see what he planned to spend the money on.

UnNews

Hello Dr Dre, and welcome to UnNews. Is there anything you need before we start? A cup of tea? Do you know where your motherfuckin' bitches and niggas are at? Or would you like us to look for them for you_

Dr Dre

No, it's fine, I'm cool.

UnNews

First things first, congratulations! $800m is a lot of money. Have you thought at all about how you're going to spend it?

Dr Dre

Oh yeah, I got big plans!

UnNews

Really, like what?

Dr Dre

I'ma buy the entire street I used to live on, and replace all the houses with palaces made of gold.

UnNews

Wow, that's going to set you back a bit!

Dr Dre

Don't worry your bitch-ass self, there's plenty more where that came from.

UnNews

And what about weed? Back in school, we all used to sing that line, "Smoke weed every day!" in the playground.

Dr Dre

Oh fo' sho'. I'ma still smoke some, but don't be thinking I'ma smoke some normal shit. I'ma research some shit on the internet, find out what the most expensive weed in the world is, and smoke that shit wrapped up in some parchment.

UnNews

Some parchment? Like what?

Dr Dre

I 'on't know. Some constitution or some shit.

UnNews

I imagine you're going to add to your impressive roster of cars too.

Dr Dre

Oh you know it! I've already talked to some of my boys down at the tunin' station. Turns out the company that makes the biggest rims in the world is based in Saudi Arabia - for all those rich young Arab-ass niggas. We just done put in an order for the biggest rims EVER!

UnNews

Really? Like those crazy 50 inch rims you see at motor shows?

Dr Dre

Oh no I'm talking big-ass. My rims are gonna be the size of two houses, one on top of the other.

UnNews

I... I literally can't imagine that.

Dr Dre

They're not even sure how they gonna bring the motherfucker overs. I might have to buy a boat for that shit.

UnNews

Wowzers.

Dr Dre

Same shit with my piano. I called up Steinway, or whatever them motherfuckers called, and ordered the biggest grand piano in the world.

UnNews

I don't get it, how big can a piano get?

Dr Dre

They say there's a possibility that it could be never ending.

UnNews

(laughing) What?

Dr Dre

They say we could wrap that motherfucker around the equator, just have it like sitting all the way around the world, like a fucking belt!

UnNews

But what would be the point of that?

Dr Dre

Just means that all around the world, brothers will be like, "What's that?" and everyone will be all "That's Dre's piano man!"
Sources
[
edit
]