UnNews:Cameron takes One Direction handjob for Africa
21 February 2013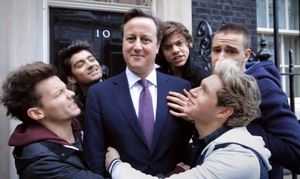 LONDON, United Kingdom – British Prime Minister David Cameron found a novel way to raise money for Comic Relief, the BBC's bi-annual charity telethon that raises millions for Africa - he let all five members of superstar boyband One Direction masturbate him in a pop video.
"We couldn't believe he said yes," said Niall, "We never thought we'd get the Prime Minister in one of videos. It was totally radical!"
"He definitely is a real cool dude," agreed Zayne, as he absently smeared bleach into his hand, before whispering, "I just can't get the filth... off!"
It all came together after Cameron was asked at a press conference if he intended to do anything for Comic Relief. When the Prime Minister's initial response was vague, one journalist asked, "Why don't you make a video with One Direction? They are making an absolutely fucking evil medley of One Way or Another and Teenage Kicks for Comic Relief." [1]
Cameron, who earlier this week insisted he liked The Smiths despite being a right-wing chinless wonder, hit back sarcastically, "Yes, fine. As long as they all wank me off right outside Number 10."
Perhaps to his surprise, the boys jumped at the chance with Louis saying, "Generations of Irish boys have suffered at the hands of Catholic priests. What better way to turn that around, into something positive, than a group wank-off of a British Prime Minister?"
And so one of the most strangest sights in British political history came to pass today on the hallowed paving stones of Downing Street as Mr Cameron emerged in a jacket, suit and tie but no trousers or pants. He posed good-naturedly with the band, saying, "This one's for Africa! Now let's get down to business."
The boys jostled for position, ultimately satisfying themselves with jostling a different part of Mr Cameron's genitals or prostate. The Prime Minister was brought to climax after 2 minutes of stimulation, and managed to steal headlines with the quip, "Careful lads, this is not just going to go in One Direction you know!"
Handnotes
[
edit
]
↑

The song is intended to encourage suicide among Africans starving or dying of AIDS, thus reducing the continent's medical bill.
Sources
[
edit
]