UnNews:All other states to follow in the footsteps of CalExit, want to leave US as well
Wednesday, February 8, 2017

Disable
Enable all
Disable all
Always enable
Always disable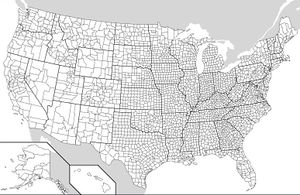 UNITED STATES OF AMERICA, EARTH - Following the inspiration that is California's attempt to secede from the United States Of America. Every other state has decided to follow in the footsteps of the Golden State and have declared their intentions to leave the United States of America.
Several fancy names have been coined by each state to describe its exit campaign, like NYExit and "Texas Don't Need the United States, we're so big." People have lined up in droves to vote for their respective exit campaigns to get placed on the ballot in order to make an exit from the United States of America official.
"Hawaii is going to have its own military. We may be a small state but we can build a military that is as large as the United States." said Hawaii Governor David Ige who's HawaiiExit campaign has gained traction amongst residents, though it's not popular with tourists who are afraid that their vacation fun will be ruined by having to carry around 51 passports just to travel to "soon to be former states that have become countries".
Donald Trump, as expected, is extremely pissed off about this, uttering expletives and using Twitter instead of holding a press conference to retain faith in the democratic process.
Donald J. Trump
@realDonaldTrump

fuck california and fuck any other states that dare split from the US of A! you will all face justice! #AmericaWillStayUnited
6:15 AM - 6 April 2018
       2052     10
All the states planning to exit the United States are expected to set up their own government, economy, military and political structures. Texas is expected to go towards a monarchy type political structure while New England will revert to having Kings and Queens ruling over the kingdom. Meanwhile Our Lord and Savior Donald Trump is expected to use every weapon in his arsenal to prevent the states from succeeding. Even if it means going to war.
Donald J. Trump
@realDonaldTrump

rest assured, you #shitheads shall face the fucking wrath of our #troops who will protect this motherfucking great land of fucking #america.
6:15 AM - 6 April 2018
       3081     3